Jockey Richard Hughes gives up riding licence in whip rule protest
Last updated on .From the section Horse Racing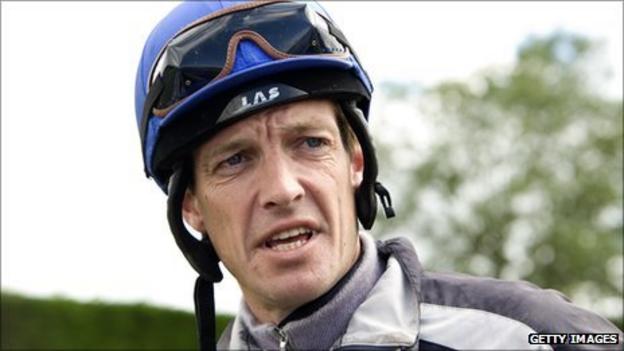 Jockey Richard Hughes has given up his riding licence in protest at the new whip regulations after receiving a second ban in the space of four days.
"Until the rules are resolved I won't be riding - I'd rather retire," he said.
"I can't ride horses like this. It's like telling Lionel Messi he can't use his left foot."
The new guidelines mean the whip can only be used a maximum of seven times in a Flat race and eight times in a jumps race - roughly half the amount a whip could be used previously.
In addition, a maximum of five strokes can be administered in the last furlong or from the final obstacle.
Irishman Hughes was handed a five-day suspension on Monday and received a further 10-day ban at Kempton on Thursday when finishing second on More Than Words in the Maiden Fillies' Stakes.
In sitting out a total of 15 days, Hughes would miss October 29-31, November 1-5 and 9-10, meaning he will not have the chance to ride Strong Suit in the Breeders' Cup.
Hughes, who gave up his remaining two rides of the night at Kempton after receiving the second ban, told Racing UK: "I've handed my licence in until further notice.
"I've been trying to obey the rules this week and when the rules came in we all thought seven was a fair number, but then they set a trap by saying you could only hit them five in the last furlong.
"The new rules mean you actually hit them more, as you have to get two into them before the furlong pole and then you have five for the final furlong.
"I was always told as a young lad the last jockey to go for stick usually wins. I don't think I can do my owners justice any more.
"It's my own decision. I gave her [More Than Words] a couple of slaps when she needed them but I am not a whip jockey. Both times I've been done I've hit them six times. I've got a 15-day ban because of it and I miss the Breeders' Cup."
Meanwhile, the British Horseracing Authority has announced it is set to consider submissions from the Professional Jockeys Association in the wake of the new rules.