Whip row: Cornelius Lysaght on jockey Richard Hughes' decision to quit
Last updated on .From the section Horse Racing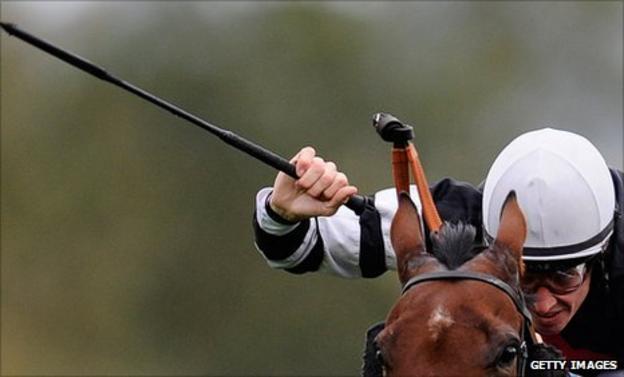 Rumblings against the new, tougher whip rules reached a mutinous crescendo after the much-admired Richard Hughes decided enough was enough.
A five-day ban at Kempton was his second since the regulations came into force, so as a result the suspension was doubled and he responded by deciding to quit the sport for the immediate future.
AP McCoy, these days elder statesman amongst Britain's 500 riders, was a guest on a BBC Radio 5 live Racing special when the news broke.
While speaking to us, he said he was being inundated with text messages from "senior jockeys" expressing solidarity with Hughes.
So much so, in fact, that jump racing's 15-time champion jockey seemed to indicate some kind of action might be in the offing.
My understanding is that those furious senior jockeys are planning to protest against the British Horseracing Authority (BHA) on Monday at Plumpton, Windsor and Pontefract.
They insist they won't be striking at those fixtures as such, but will be making themselves unavailable to take any mounts, and hope colleagues further down the riding food chain will follow suit.
In which case, racing could theoretically grind to a halt.
The new rules permit seven "hits" with the whip in flat races, and eight over jumps, only five of which are allowed through the final furlong or from the last obstacle.
Penalties for excessive use have been sharply increased.
All parties are in agreement that something needed to be done, but the jockeys' principal gripes are three-fold:
* One is that it is unfair to expect flat jockeys, racing at up to 40mph, to spot the furlong-from-the-finish pole.
* Secondly, they believe longer suspensions and the loss of riding fees and percentages of the prize money, are simply too severe.
* Thirdly, they are angry about the timing of these most controversial of revisions, just before the brand new Champions Day at Ascot, supposedly a shop window for British racing.
Paul Struthers of the BHA was also on the 5 live programme, and he gently pointed out that McCoy was amongst those who had backed the changes when they were introduced.
Insisting that the Authority was listening to the jockeys, he urged their association to get in touch with them as soon as possible to share their concerns.
The Whip Review Group, which came up with the new rules in the face of public concern on the issue, has been recalled.
But Struthers insisted that if the rules were not made to work, the whole debate might escalate "out of our hands", in that anti-whip campaigners could force through a complete ban.
Despite a senior BHA figure saying just a day earlier that there was no chance of any changes to the law, the prospect of peace talks is now galloping into view.
The limits are likely to stay, but the punishments - which clearly were not working before the rules were tightened - have probably been set too high, and should be reviewed.
The decision by Hughes, a top jockey and contender for last season's championship, to relinquish his licence will certainly focus minds at the BHA's central London HQ.
Struthers, and indeed Charles Barnett from Ascot, claim this week's events have not overshadowed Saturday's Champions Day.
But it is hard to see that as anything other than spin - of course they have, and they show little sign of going away.