Jockeys to meet horse racing bosses over whip dispute
Last updated on .From the section Horse Racing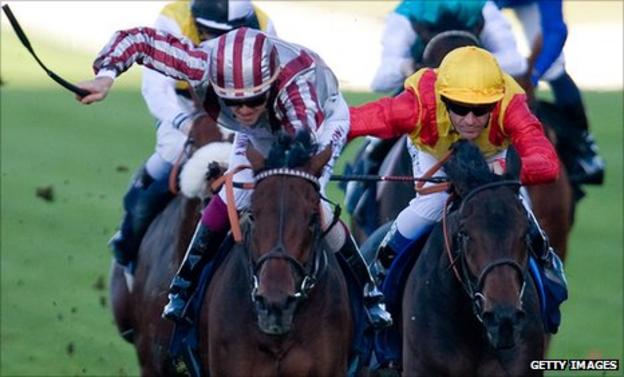 Jockeys are to meet racing's rulers on Monday in an effort to resolve the whip dispute which nearly led to a strike.
Professional Jockeys' Association (PJA) chief executive Kevin Darley will hold talks with British Horseracing Authority (BHA) officials.
Tough whip rules have angered jockeys, who had threatened to strike on Monday.
"I'm sure we will be able to come to some sort of amicable agreement and protect the integrity of the sport at the same time," Darley told BBC Sport.
The new guidelines mean the air-cushioned whip can only be used a maximum of seven times in a Flat race and eight times over the jumps - roughly half the previous limit.
Jockeys broadly accepted the introduction of stricter rules but many are unhappy with the stipulation that the whip can only be used five times in the final furlong, or after the last jump, plus severe penalties which include losing prize money.
Richard Hughes relinquished his licence on Thursday after a second whip ban in the space of four days and said he would not ride again until the regulations were reviewed.
On Saturday, Belgian jockey Christophe Soumillon was given a five-day ban and stripped of about £50,000 in prize money after he used his whip once too often when winning Britain's richest race, the Champion Stakes at Ascot.
Soumillon told BBC Radio 5 live's Sportsweek he would support a strike by British jockeys.
He said: "If I was a British jockey I would be on the side of Richard Hughes and probably not ride any races because the rules have to be clearly made and not like they are today.
"So I will be on the side for all the jockeys."
Meanwhile, legendary former champion jockey Lester Piggott said the new regulations needed time to bed in.
"If they were going to do it properly they should have had a two-week period where they could get into it and it would have been better that way," he told BBC Sport.
"I don't know what it's coming to. I think the penalties have been overdone.
"All the good jockeys adapt but right now it is tough. It all needs to simmer down a bit."
The PJA has made written submissions to the BHA, although Darley declined to say exactly what jockeys have proposed.
He added: "They have all tried their best to comply with the rules. Most of the jockeys have been suspended for what you might call minor offences - they have gone one or two [strokes] over.
"It's very difficult for them to change their mindset. They are being asked to change the way they ride overnight.
"It may sound very simple to the public that they've only got to count to seven, or count to five, but they are in a competitive mode. They are in a race with a lot going on around them.
"For instance, in a five-furlong race they are travelling 20 yards a second. Imagine that in a race like the Stewards' Cup where there might be 25 horses around you and you're having to look for the furlong pole. It's difficult, it's not as easy as people say."