Jockeys' association wants fines abolished for whip rule breakers
Last updated on .From the section Horse Racing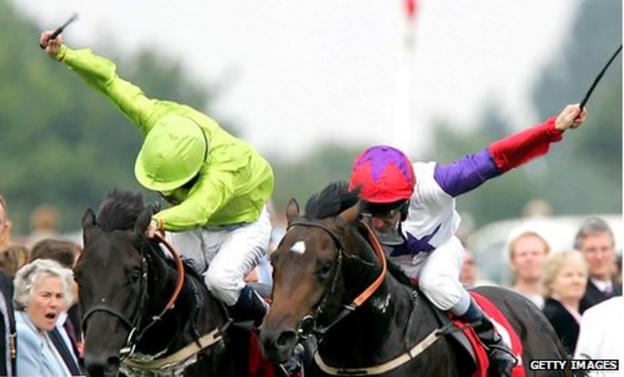 The battle line in the future of the whip in British horseracing seems to be drawn firmly over the issue of financial penalties.
It is happy with the number of strikes on a horse being limited to seven on the Flat and eight over the jumps.
But it wants a removal of the condition that restricts a jockey to five strikes in the closing stages.
That compromise is likely to be broadly acceptable to most parties.
Far more controversial is its insistence that there should be no direct financial punishment for jockeys who break the rules.
The PJA maintains ''the penalties should be confined to riding suspensions only, as has historically been the case. There should be no provision for forfeiture of the riding fee and the jockey's percentage of prize money.''
In other words, if a jockey breaks the rules and wins a race he or she should be banned from riding for a certain number of days but should keep the prize money.
But the added financial deterrent is a crucial part of the new regulations, certainly regarded as a key factor by welfare groups in ensuring there is an effective deterrent against horses being excessively whipped.
If that financial penalty was to be removed, as the jockeys clearly insist it must be, it would leave the entire whip review looking toothless.
With the battle lines drawn over that issue the BHA faces a major challenge in finding a compromise by the end of the week.