Ruby Walsh's Aintree win whip ban upheld by BHA
Last updated on .From the section Horse Racing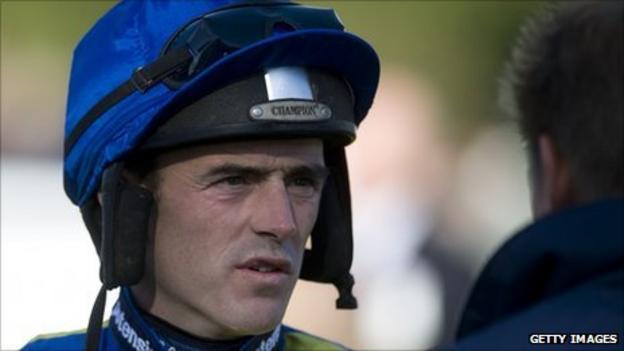 Ruby Walsh's five-day ban for overuse of the whip has been upheld by the British Horseracing Authority.
Walsh will now miss the ride on The Nightingale in the JNwine.com Champion Chase at Down Royal on Saturday.
He had threatened to restrict his riding in Britain after he was judged to have exceeded the eight-strike limit as Edgardo Sol won at Aintree.
"I viewed it as someone who knows about riding, they viewed it as somebody who doesn't," he said after his hearing.
"Britain is very fortunate to have great horse racing, it has great trainers and good owners, but it need to use an awful lot more common sense."
Walsh added that his appeal's failure had not affected his enthusaism for racing in Britain.
His advocate described Walsh's ride as one of "a consummate professional".
The Irish jockey struck his mount nine times, one more than the maximum under controversial new whip rules, when winning by a nose in the race on 23 October.
But he claimed that one of those strikes was to correct his horse's balance on the approach to a fence.
"They agree that I had used the whip for corrective measure, but they didn't deem it to be a safety measure. To get a five-day ban for that baffles me," Walsh added.
"I have never had a problem with regulation and whip rules. I don't have a problem with them now.
"I think the old rules were very good, if they wanted to have harsher penalties under the old rules, that is the way that I think they should have went."
A further breach of the rules will see him handed a 10-day ban.
"It's a fair cloud to have hanging over you. I just think the rules are unfair and are way too stringent and way too strict," said the 32-year-old.
The Grand National and Cheltenham Gold Cup winner told Racing UK: "I'm not into numbers. Every case is individual, it's a grey area that people are trying to make black and white. If seven is acceptable in a five-furlong race how can eight be acceptable in a jumps race? It's bizarre.
"I honestly believe the situation will get worse before it gets better. Bans will start to mount up, people will end up doing what I did - instinctively doing something to correct a horse that is not allowed and walk into five-day and 10-day bans."
Walsh came unstuck two days after the BHA agreed to some amendments to the new whip rules on 21 October.
But some riders are still unhappy with the penalties and the following race started five minutes late as jockeys debated whether to boycott the contest.
The ban rules Walsh out of racing from 5-9 November, with the first day of the suspension meaning he misses the Down Royal card, which includes the Grade One chase.
After the Aintree race, Edgardo Sol's trainer Paul Nicholls said on his Twitter account: "Nice day with three winners ruined by Ruby's five-day ban after awesome ride on Edgardo Sol.
"And Ruby just told me he can't ride Kauto Stone and The Nightingale at Down Royal on November 5. Beyond a joke."