BHA proposes Grand National safety improvements
Last updated on .From the section Horse Racing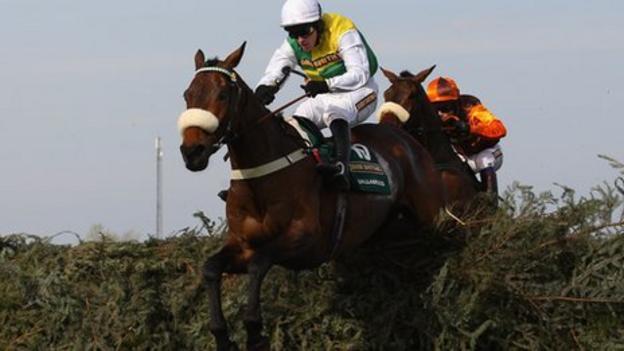 A British Horseracing Authority (BHA) review into the Grand National has published 30 recommendations to improve the safety of the Aintree race.
Among the recommendations is that the age of horses eligible to enter the race should rise from six to seven.
It is also suggested that all runners must have finished fourth or better in a steeplechase of at least three miles.
BHA chairman Paul Roy said: "The sad events at the 2011 Grand National demonstrated the risks this race can present. It rightly focused world attention on one of the British Horseracing Authority's core objectives: to protect the safety and welfare of racing's human and equine participants.
"The review group has submitted recommendations that will enhance the safety and welfare of jockeys and horses participating in the race, while removing none of the magic that makes the Grand National one of the most exciting, best-loved and enduring sporting events in the world."
After Ornais and Dooneys Gate suffered fatal falls on the first lap of the National, Becher's Brook and the fourth fence were omitted from the second lap and, in August, it was announced that the height of both fences will be changed for the 2012 race.
Further recommendations from the BHA review include various elements of pre and post-race procedures to be reviewed and enhanced, bypassing of fences to continue with customised equipment, and improved processes for identifying and responding to weather-related risks.
BHA director of race-day operations and regulation Jamie Stier added: "As part of the review, a wide range of proposals were considered and, in many cases, the need for change was not found.
"These topics included discussions regarding the maximum number of runners in the race, the position of the start and run to the first fence.
"However, despite a lack of evidence which warranted change, the group did conclude there is merit in continuing to collate data and monitor results so that, if necessary, such subjects could be revisited in the future."
World Horse Welfare has welomed the recommendations, with cheif executive Roly Owers saying: "We are pleased they will take a more pro-active approach in communicating the many measures in place to help safeguard the welfare of the horses.
"As always, we will want Aintree to monitor the impact of these changes and work with welfare groups to make adjustments as needed."
Read the full into the BHA review into the Grand National here.