Breeders' Cup Mile: Goldikova's winning run under threat from Strong Suit

By Cornelius Lysaght
BBC horse racing correspondent
Last updated on .From the section Horse Racing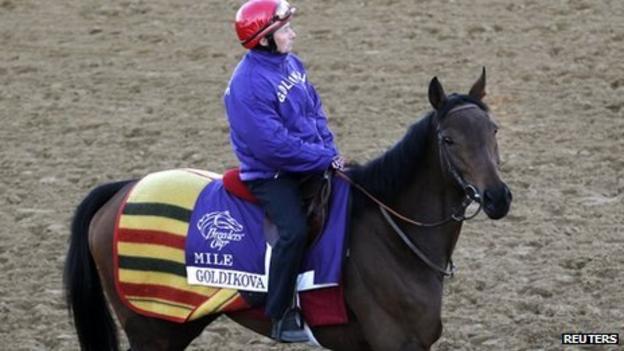 Star French mare Goldikova takes on the sport's newest royalty in the TVG Breeders' Cup Mile at Churchill Downs in Kentucky on Saturday.
Qatari Sheikh Fahad al Thani and his brothers have quickly become big players in British and world racing, boosted by Melbourne Cup hero Dunaden.
And they hope to land another big prize this weekend with Strong Suit.
The three-year-old, ridden by Richard Hughes, aims to halt Goldikova's bid for an historic fourth win.
Goldikova, now six, is understandably favourite, but Strong Suit boasts strong credentials, not least because so much his owners touch turns to gold.
Sheikh Fahad, 22, acquired Frederick Engels not long before a Royal Ascot success, while his filly Lightening Pearl travelled from her Irish base to win at Group One level at Newmarket.
"It would be a fairytale if Goldikova won again, and an even bigger fairytale if Strong Suit won," said racing manager David Redvers after the colt landed the Challenge Stakes at Newmarket.
It has been an astonishingly fast ride up the tree for the men from oil and gas-rich Qatar, with only a relatively small squad of horses, and it shows no sign of stopping.
Speaking after Dunaden's success in the Melbourne Cup in Australia on Tuesday, the sheikh said: "For people in the Gulf [states], this is in our blood. My operation is all about the horse and finding which race is the best for him. It has been amazing and we're loving it."
Strong Suit's success at Newmarket in October, plus wins at Royal Ascot and Glorious Goodwood, have all been achieved in great style but each time over seven furlongs (1,400m) rather than a mile.
The BC Mile includes two bends, and those closest to the colt are hopeful the distance will not be an issue.
Trainer Richard Hannon's assistant, Richard junior, said: "It all depends on how he goes around the turns. If he handles them, he will run very well. If he doesn't, he could end up anywhere.
"Goldikova is not getting any younger, and not winning by as far as she was, or as much. Our fella is younger and improving."
For Goldikova, trained in France by Freddy Head, the race is a swansong at the end of a truly glittering career during which she has recorded 17 wins from 26 starts, amassing the equivalent of £4.2m in prize money.
And such is her popularity in the United States that TV schedulers have paid the rare compliment of moving the Mile to be the penultimate race at the two-day meeting in order to ensure maximum profile.
Declaring Goldikova in "remarkable" shape, Head insisted her recent defeat, when second at Longchamp on the day of the Prix de l'Arc de Triomphe, is of little concern.
He said: "Was my confidence dented by the [Prix de la] Foret? Absolutely not. That was very good effort in a great race, and the race was a bit of a re-entry for her season (having not run since August).
"The goal has been to be 100 per cent on Saturday, so maybe she was not at her best that day? She is a year older and a little heavier but she still has the same will."
The Breeders' Cup Mile, among the highlights of the self-styled "world championships" of Flat racing which start on Friday, is at 2207 GMT on Saturday, 5 November, screened live on ATR Channel