Champion Flat jockey Paul Hanagan may not defend title
Last updated on .From the section Horse Racing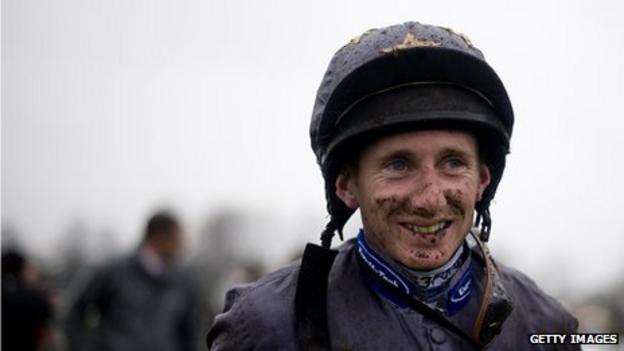 Champion Flat jockey Paul Hanagan is considering not trying to defend his title next year to prolong his career.
The Malton-based rider won the crown on Saturday at Doncaster for the second consecutive season.
Hanagan, 31, told BBC Radio York: "It would be great to get the treble but I think I've proved myself now two years on the run.
"I want to be in the game for another 10 to 15 years. The way I'm going I'm not going to last much longer."
Hanagan admitted the punishing schedule, involving thousands of miles of travelling between meetings, has started to take its toll.
He added: "I don't think there's any pressure at all. I do generally think I will not be pushing myself as much as this year. I want to go on."
Hanagan is stable jockey for Malton trainer Richard Fahey who said: "Paul's had over 1,100 rides this year.
"He's driven or been driven over 100,000 miles this year. It's a huge achievement.
"There's over 400 jockeys there and he wouldn't be riding for the most powerful yard in the country but he's banged away and done it again.
"Physically it's a huge demand on a person's body. But the mental side of it, I just felt Paul this year handled that an awful lot better this time.
"Outwardly he looked like he handled it a lot better.
"I suppose as a reigning champion I think that probably made it easier. The first year was very tough on him."