Harry Derham rides Brampour to Greatwood Handicap win
Last updated on .From the section Horse Racing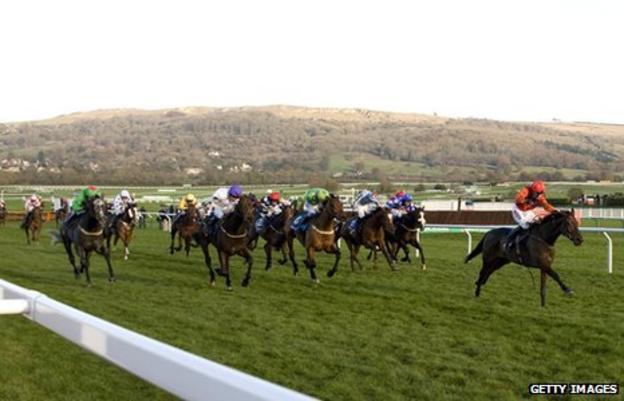 Teenager Harry Derham, nephew of trainer Paul Nicholls, rode Brampour to Cheltenham's Greatwood Handicap Hurdle.
On another delightfully mild and sunny autumn afternoon at the home of National Hunt racing, there was much congestion coming to the final fence.
Derham, 17, sent four-year-old Brampour clear down the closing stretch and won by two-and-a-half lengths, with Olofi second and 28-1 Abergavenny third.
Favourite Pateese faded late on and was not placed, finishing well adrift.
The race had previously been dominated by favourites, with 18 of the last 20 winners priced at 10-1 or shorter.
Pateese had edged into a narrow lead two from home but was swallowed up by the converging pack.
The jostling for position coming to the final flight affected Olofi, but Derham seized the opportunity of a clear line superbly.
He said afterwards: "It's unreal. I'm very, very lucky that Paul and the owners have let me ride this horse.
"I was flat out all the way but then he picked up. Paul has been so good to me, even when I was young, and to do it for him is so unbelievable."
His uncle said: "It's a lot to ask of a 17-year-old, but that was some ride.
"I always said to him that he's not going to get chances just because he's my nephew, but he's incredibly fit, he works hard, and he's just one of the lads.
"I thought the horse would come on for his first run, but he's made a massive improvement."
Cheltenham 1420:
1 Brampour (H Derham) 12-1
2 Olofi (PJ Brennan) 20-1
3 Abergavenny (F De Giles) 20-1
4 Moon Dice (T Doyle)
A Media Luz (withdrawn)
23 ran