Kauto Star's owner Clive Smith on record-seeking racehorse
Last updated on .From the section Horse Racing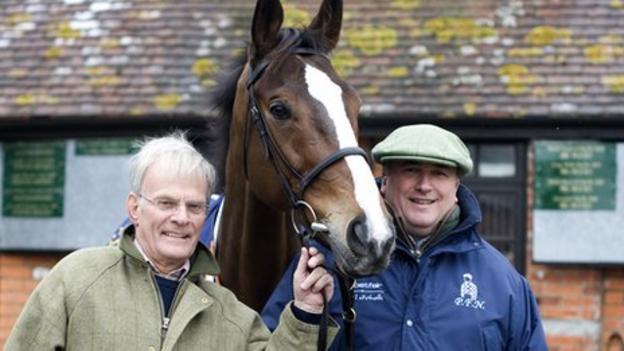 Kauto Star will attempt to make racing history when he seeks a record fifth King George VI Chase win at Kempton on Boxing Day.
Victory would mark a fairytale comeback for the 11-year-old, trained by Paul Nicholls, who appeared to be edging towards retirement before winning the Betfair Chase at Haydock for the fourth time in November.
Here, his owner Clive Smith (a Surrey-based golf course entrepreneur) gives an insight into what it means to be associated with the French-bred horse, the highs and lows, and how he nearly missed out on buying him.
BUYING THE HORSE
"I bought Kauto Star after being outbid for another horse, Garde Champetre, by JP McManus [jump racing's biggest owner].
"Who knows, he might have stayed in France? One or two people looked at him and just didn't go for him - they thought he was too expensive.
"I just missed out on buying Garde Champetre, and was in the frame of mind to be buying horses. I certainly liked the look of Kauto straight away on the tape. He was spring-heeled and had a drive to finish a race off. He went through the field like a knife through butter and I thought he was the one to buy. In the end, Garde Champetre went for about £530,000 and Kauto sold for 400,000 euros, which was about £280,000 at the time."
WHAT IS HIS TEMPERAMENT LIKE?
"He still likes his training, he loves life, he's got a very active, sparkling personality. He's very alert and athletic. He's just a wonderful, wonderful horse. He's got a beautiful temperament and great personality. He's as soft as a pussycat.
"There's no biting or nibbling at you. He just likes you being there. People might think it's just the owner talking, but the people at the yard think that. Kauto Star is very friendly."
HOW DO YOU FEEL DURING HIS RACES?
"I do get nervous and just wonder if he can win. I'm always watching the first three or four fences as anyone would, especially now he is such a precious animal, I just wouldn't want anything to go wrong. After the first three or four, I get slightly more relaxed, but you are always thinking about that. You just don't want him to have a fall.
"I owned 11 or 12 horses before Kauto Star, and it's just a fantastic dream come true to be associated with him. I bought a three-year-old horse in 1987 and always hoped to have a good chaser. I started quietly and gradually built up a head of steam."
WHAT HAVE BEEN THE BEST MOMENTS?
"Three races really. It was so sensational to win the first Gold Cup [in 2007]. It is the race everybody wants to win.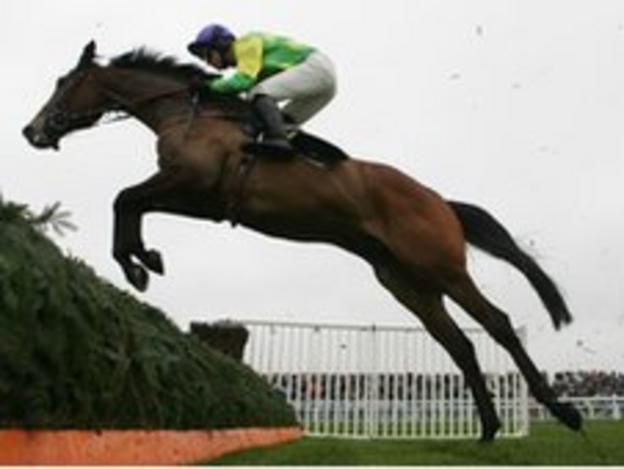 "His return to form last month at Haydock was fantastic. It was the most moving moment on the turf I've ever had. When you see what he did, to beat the reigning champion, was just remarkable, and beat him all points down.
"The very first race that he ran for me was on 29 December 2004, at Newbury. It was the Western Daily Press Novices' Chase. I've got a fantastic photograph of him halfway through the race - a brilliant action picture, it was marvellous. He beat several good two-milers and it was a stunning, stunning win. Ruby got off and said: 'What a fantastic horse' and Paul was very excited and we all knew it was the mark of a very talented horse. He jumped beautifully and won easily. That was a great moment when we knew we had a possible champion in the making."
AND THE WORST?
"He had such a severe fall in the 2010 Gold Cup. That was really the worst time ever. He slipped over on his neck and luckily because of the rain he slid on the ground, otherwise he could have broken his neck. He's recovered remarkably since then. We went down to see him straight away and he had his head in a bucket of water, was being hosed down and seemed OK. His head was bruised. He had a bit of shock and just needed rest."
HAVE YOU THOUGHT ABOUT RETIRING HIM?
"We wouldn't want to push him. If he showed any sign of having had enough, he will be stopped straight away and retired. If he likes what he's doing, we can't be doing too much harm to him.
"We'd like him to finish at Cheltenham [in March]. That's quite possibly where he would finish, but if it's the time to go, we would do it at Kempton. It really is a race at a time. We are not aiming for Cheltenham at this time. We are just thinking of the King George and if he doesn't come to any harm and runs very nicely, we would weigh everything up. We are not trying to get to the Gold Cup, we are taking this race as a one-off.
"You've got a marvellous animal here and it's very difficult to know where you are with him all the time. He's such an optimistic sort of horse who is always trying to give his best and you don't know if he's flattering himself sometimes. He's got such a great heart you just can't tell if he's had enough sometimes.
"I just want to have him nicely retired. He's had a wonderful career and owes nobody anything. It would be nice to see him eventually in a field enjoying himself. See More Business [another former Gold Cup winner for Nicholls] is 22 and down there in a field there and seems happy enough. It could be just the same for Kauto."
WHAT WILL BE HIS LEGACY?
"Like golf, people start comparing the older champions with the modern champions. Is Tiger Woods better than Jack Nicklaus, for example? It seems a bit unfair on the older players, or horses, to say this is the greatest ever seen.
"People have said he's the best since Arkle in the 1960s. He is a very, very talented horse. I think Arkle would have a job with him over two miles, or two-and-a-half miles. Certainly round Kempton, Kauto would take some stopping.
"When you get to the Gold Cup, Arkle was a very strong horse, and he probably comes out top over three-and-a-quarter miles. I think the training is different these days, and the competition. Arkle won three Gold Cups with a total of 10 opponents. Today there is a lot more competition and training is better. He must be up there with the very best."