Kauto Star & Master Minded hard to split, says owner Clive Smith
Last updated on .From the section Horse Racing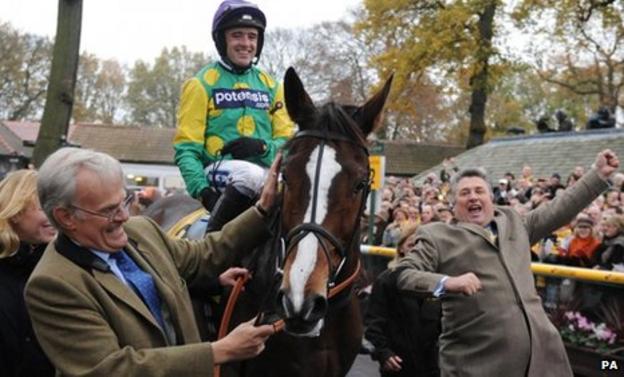 Owner Clive Smith says it is impossible to know which of stablemates Kauto Star and Master Minded is the best ahead of the King George VI Chase on Boxing Day.
The pair clash for the first time when they face champion Long Run at Kempton.
Dual Cheltenham Gold Cup winner Kauto Star seeks a record fifth King George win, while former two-mile champion chaser Master Minded runs over three miles for the first time.
"They're both well, but I have no idea who will win," Smith told BBC Sport.
Smith watched as the two horses were schooled over fences at trainer Paul Nicholls's Somerset stables on Monday by jockey Daryl Jacob, who rides nine-year-old Master Minded on 26 December.
"They went very well, and jumped nicely, no problem," he said.
Kauto Star bounced back to form after an unusually inconsistent spell, which had some pundits predicting his retirement was imminent, to beat Long Run in the Betfair Chase at Haydock in November.
The victory persuaded Smith and Nicholls to decide the 11-year-old should take his chance at Kempton.
"We always probably thought down at the yard that it wouldn't be a good idea for them to run against each other. It sort of spoils the mystique about who would win," Smith said.
"We were always aiming Master Minded at the King George since he won the Melling Chase at Aintree in April.
"Kauto Star's stunning performance at Haydock made us realise it was a good idea for him too and I certainly thought he ought to have a go at winning the King George for a fifth time if he came back all right out of the race.
"The only thing we have to worry about with Kauto is how much that race took out of him but there's every indication he's feeling fine. He looks good, has got a good temperament and is feeling fresh.
"If he was wrong tomorrow morning we would retire him. You never know when that is going to happen - so it seems wise that, while he is looking good, we might as well give him a run."
Smith said he would be happy if either of his horses triumphed, although admitted to having a soft spot for Kauto Star.
"There is no way you can know anything about who might be better. We know Kauto Star is the star of Kempton and he loves the place. I think he'll run very well," Smith said.
"But also we know Master Minded is coming on. He has been trained very strongly for this race and is fully fit.
"There is a favourite, of course, I've got a great attachment to Kauto Star and would love to see him win it for a fifth time. But it would also give me great pleasure to see Master Minded do it if Long Run can be beaten.
"I think we've got a chance with Long Run. He came fit to Haydock and had a pretty tough race and was beaten fair and square.
"I think it just depends on whether Kauto and Master Minded can push him far enough to get him under pressure. That is something we do not know. Long Run is a tremendous talent."