Evan Williams hopes for Welsh National debut win
Last updated on .From the section Horse Racing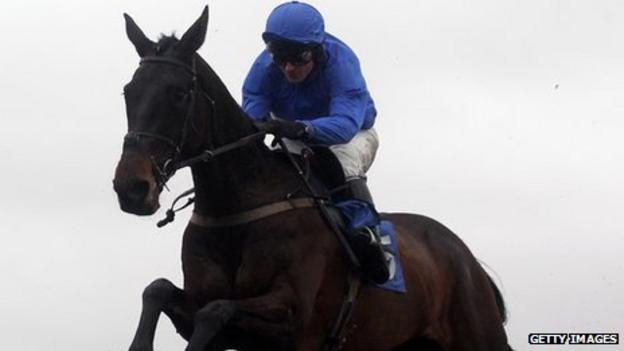 Welsh trainer Evan Williams hopes to continue his family connection with the Welsh National when he sends out his first runner in the Chepstow showpiece.
He hopes 2009 Cheltenham Foxhunter chase champ Cappa Bleu can be the first Welsh winner since Norther in 1965.
Williams' father Rhys rode Norther in point-to-point races for Cowbridge trainer Denzil Jenkins so Williams hopes to extend the love affair.
"We've quite a bit of family history with the Welsh," said Williams.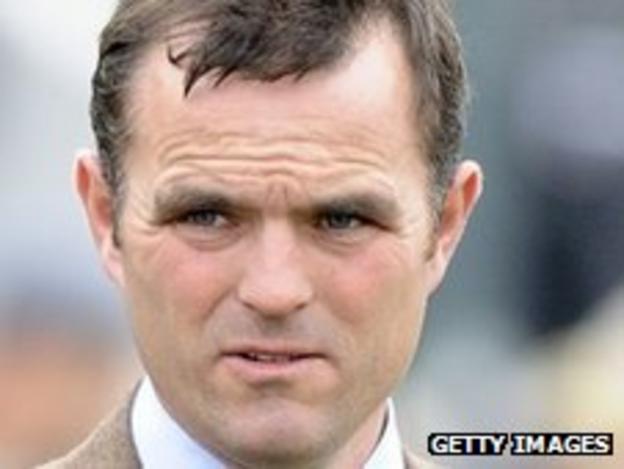 "The last Welsh trained winner of the Welsh National was Norther and my father won a lot of point-to-point races on that horse before it went to the Welsh National.
"And Limonali, who won the race 50 years ago and again two years later with David Nicholson riding, was also trained nearby.
"So I've have it drummed into me from a very early age that the Welsh National was a very special race.
"The Welsh National is always nice to win because of where we are, it is the big Christmas race for us in this part of the world."
The Vale of Glamorgan handler admits "it's about a time Welshman won our National again" and for the first time in his 13-year training career one of his entries will run in the 27 December marathon.
Cappa Bleu returned from a 20-month absence to win on his comeback in a three-mile handicap race at Newbury in November as he recovered from a fall in the 2009 Hennessy Gold Cup.
The nine-year-old will bid for his fifth victory in his 11th race in the three mile, five furlong handicap Chepstow feature.
And Williams believes the 14-1 chance proved at Haydock that he "has the class" to win big chases.
"To win any of these handicaps, you need a horse with a bit of class," said the Llancarfan trainer, who enjoyed with State of Play.
"He is a Cheltenham festival winner, he has some very smart form and it's nice to have him back as a very happy horse.
"The Welsh National is a good prize and has been won by horses on their way to bigger and better things.
"I'm not starting to think that's where we are with Cappa Bleu, it is a joy to get him back and to have won with him."
Cappa Bleu is not the only Welsh links at Chepstow on Tuesday as trainer Nigel Twiston-Davies is to run Viking Blond and BallyFitz while Peter Bowen may enter Mumbles Head and Tim Vaughan could run Our Island.
Welsh jockey Sam Thomas, meanwhile, is set to ride As De Fer.
2011 WELSH NATIONAL: Five-day declaration
(Going: Heavy, Soft in places)
Hey Big Spender (CL Tizzard)
Synchronised (Jonjo O'Neill)
Carruthers (M Bradstock)
Chicago Grey (G Elliott)
Blazing Bailey (A King)
Cappa Bleu (Evan Williams)
Mon Mome (Miss V Williams)
Galaxy Rock (Jonjo O'Neill)
As De Fer (AJ Honeyball)
Viking Blond (N Twiston-Davies)
Neptune Equester (B Ellison)
Giles Cross (V Dartnall)
Or Noir De Somoza (D Pipe)
Any Currency (M Keighley)
Cannington Brook (C Tizzard)
Knighton Combe (Jamie Snowden)
Le Beau Bai (R Lee)
Indifference Curve (Miss Margaret M O'Sullivan)
Master Overseer (D Pipe)
Ballyfitz (N Twiston-Davies)
Mumbles Head (P Bowen)
Alderluck (N J Gifford)
Our Island (Tim Vaughan)
Sona Sasta (D Pipe)
Bench Warrent (C J Mann)
Heathcliff (R Lee)
Lochan Lacha (A J Martin)
Mid Div And Creep (Mrs Lawney Hill)
Ballyfoy (G L Moore)
Incentivise (R Lee)
Mark The Book (B I Case)
Nine De Sivola (Ferdy Murphy)
Victory Gunner (R Lee )