Storm damage at Ayr racetrack forces call-off
Last updated on .From the section Horse Racing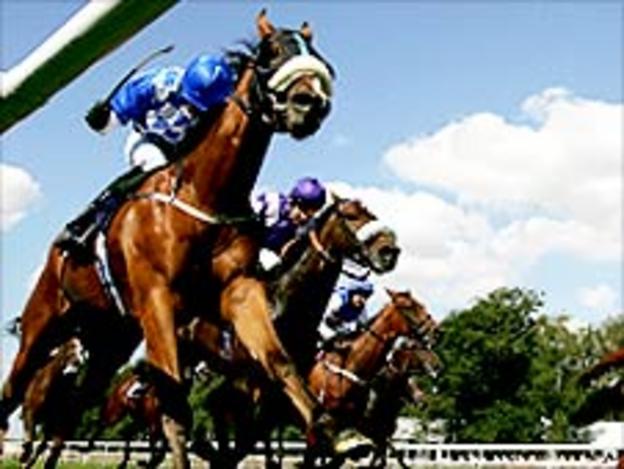 Tuesday's race meeting at Ayr was abandoned after strong winds damaged facilities at the Craigie track.
Clerk of the course Emma Marley had given the meeting the go-ahead following an 0715 GMT inspection due to the threat of rain.
But the fierce winds left a tree in a dangerous position, meaning the track had no public address system, which is essential for public safety.
Debris on the roads had prevented trainer Lucinda Russell reaching Ayr.
The Milnathort trainer had planned to enter five horses - Cadore, Hole In One, Outlaw Tom, Delightfully and Stormion - at the meeting but was forced to pull out when her horsebox could not pass roads blocked by fallen trees.
Iain Ferguson, Ayr's head of public relations, said: "The very strong winds are actually forecast to ease into the afternoon and that is not why we've had to abandon.
"The problem is in fact a tree that is about to fall which is close to a Racetech truck.
"On health and safety grounds they had to move, but it meant we would have had no scanner and no PA system. You are not allowed to race without a PA system and that is why we've had to abandon, not because of the wind.
"It's incredibly bad luck for the groundstaff who'd made a huge effort to get racing on."
Sandra Forster, based near Kelso, was also forced to take out her runners.
Forster, who gave up trying to get to Ayr where she was due to run Soul Angel and See The Legend, described the scene as "pretty scary".
She said: "We got as far as Parkhead and the road was blocked. We were sat still in a fairly clear bit and I was sat there shaking, I was petrified.
"We're on the way back and it's fairly gusty and pretty scary. I just don't think it's worth it, personally."