Will Kennedy receives whip ban after Kempton win
Last updated on .From the section Horse Racing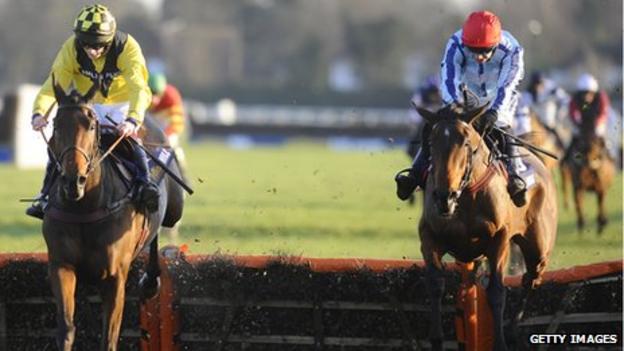 Jockey Will Kennedy has been handed a seven-day whip ban and told to forfeit his prize money after winning at Kempton.
Kennedy won the prestigious Lanzarote Hurdle on 9-2 favourite Swincombe Flame but was penalised for excessive use.
"You work your backside off and lose two-and-a-half grand. You sometimes wonder why you bother," said Kennedy.
The incident occurred just days before new British Horseracing Authority chief executive Paul Bittar begins his post.
Jockeys have claimed that penalties for breaking the new rules, announced in September before being amended the following month and again in November, are too severe.
A strong ride from Kennedy helped Swincombe Flame pass Featherbed Lane at the second-last to take the £25,000 handicap but Kennedy galvanised her to steal a nose advantage on the line.
Excessive use of the whip has re-emerged as a controversial topic this week, with amateur Robert Cooper and Flat rider Robert Winston receiving heavy bans.
Kennedy was aware he had broken the rules but said: "I'm not really one for hitting them but I missed the last and what do I tell the owners?
"I either hit her two more times and win by a nostril or I don't and I get beaten. Who can say I would have won without those two hits? It's disappointing."
The Irishman said he may appeal against the punishment, which is set to run from 28 January to 3 February.