Ascot to refund spectators made to wear orange stickers
Last updated on .From the section Horse Racing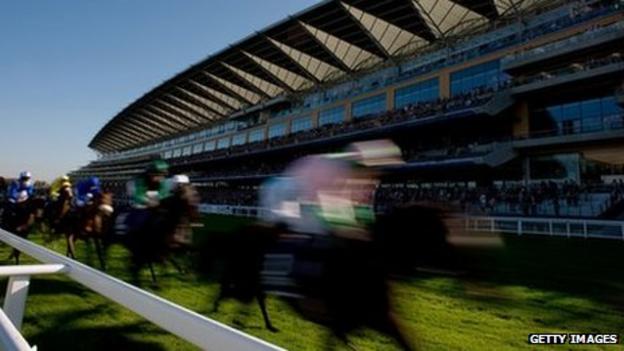 Ascot will refund Saturday's spectators who were labelled with orange stickers for breaching new dress codes.
The rules, which require male premier enclosure ticket holders to wear a jacket and tie, were not enforced, but the stickers were issued as a warning.
"No customers should be expected to pay for such an experience," Ascot chief executive Charles Barnett said in a statement.
The move is likely to cost Ascot a five-figure sum.
This week it was announced that women must wear hats rather than fascinators - a cross between a hair accessory and a mini hat - in the Royal Enclosure at Royal Ascot.
For race days outside the royal meeting, the new course dress code states: "In Premier Admission, gentlemen should wear a jacket and tie, smart trousers or smart jeans, no trainers. There will be an announcement on the day allowing jackets to be removed, should the weather be hot.
"Ladies should dress for a smart occasion; hats are encouraged but not compulsory. Children should be dressed smartly."
Small orange stickers were affixed to the clothing or badges of racegoers who breached the dress code, a policy described by some as "patronising and humiliating".
"It is clear that we let down many of our premier enclosure customers yesterday with a well-intentioned but misguided policy," Barnett said.
"We have taken the view that all premier enclosure visitors yesterday will receive a full refund."
Barnett said Ascot was refunding racegoers as a gesture of goodwill, and urged them to retain their visitors' badge in order to claim back the cost of admission.
He added: "We have worked very hard for many years to establish ourselves as a benchmark for customer service and are making this statement today to reinforce that we will not allow our reputation as a welcoming sports venue to be tarnished by an isolated lack of judgement on our part.
"We will work through the logistics of the refunds tomorrow. Most people will have booked in advance or paid by card on the day but we will look after cash customers too and anyone who still has their admission badge should hold onto it."
Ascot spokesman Nick Smith told BBC Sport: "We are trying to bring in a new dress code but didn't want on day one to turn anyone away and genuinely thought we were treading quite softly.
"Because we haven't got just one premier enclosure admission point, it was not feasible to talk to people as they came in and so they were advised as they entered the escalators to level four.
"The idea of the tiny orange stickers was that staff would see who had already been advised so they didn't hassle them for the rest of the day."
Smith said the new rules were part of a move to restore formality at the course and the stickers were designed to identify dress that would be unacceptable at future meetings.
"Everything behind the thinking appeared to make a lot of sense, but it's clear that targeting people like this gave out the wrong message," he said.
"We used a very small little tag, not a huge sign saying 'you are wearing the wrong dress'.
"The intention wasn't to be heavy-handed so we apologise. We haven't had many complaints, but we are sure we will get some.
"It was clearly the wrong thing to do and there will not be orange tags next time. We will advise people politely, although this may unfortunately mean people are advised more than once."
There is no formal dress code in the course's grandstand for race days outside the royal meeting, but the rules state "bare chests are not permitted at any time".
Men are required to wear a jacket and tie in the grandstand at Royal Ascot, although the restriction does not apply to the Silver Ring.