Tony McCoy second at Warwick on return from injury
Last updated on .From the section Horse Racing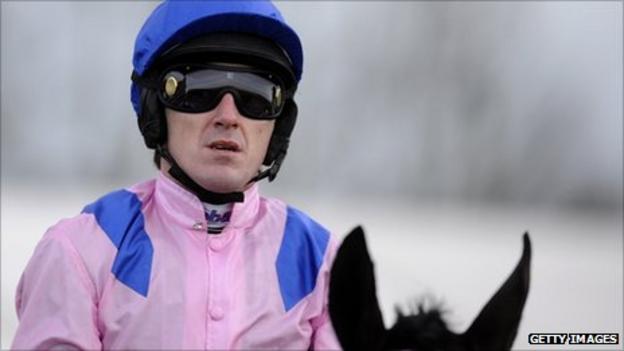 Tony McCoy had to settle for second place on his return to action at Warwick on Thursday following nearly a month on the sidelines after a fall.
McCoy, riding Key To The West in the Racing UK Intermediate Open National Hunt Flat Race was beaten by Harry Skelton on Ballyalton.
"I'd feel better if I'd had a winner, he was a bit keen," said McCoy, 37.
"I've recovered pretty quickly from what happened and I wanted to be back for Cheltenham [Saturday] and for riding a few horses over the next couple of weeks.
"I'll be riding at Huntingdon tomorrow [Friday] and I will try to build things back up from there."
McCoy was able to race after seeing a specialist on Monday, who was pleased with his recovery.
"I saw the doctor and he was very happy with all my scans and was happy with my ribs and my lung, so I am pleased," McCoy told the Racing Post.
"It was not a case that I would have liked to have come back sooner. I would not have been able to come back sooner as I broke quite a few ribs and punctured my lung.
"A fall is a fall. It hurts the same as it did 15 years ago.
"When you get a bad fall you get a bad fall. It doesn't matter what age you are it is going to hurt, but that is part of the job."
The Northern Irishman, who spent last week recuperating in Barbados, is on course to win his 17th title, leading this season's championship with 174 victories, well clear of his nearest rival, Richard Johnson, who has 112 winners.
McCoy's injury came just as the champion jockey was enjoying an excellent run of form, two days
He has admitted that the fall has cost him any chance of breaking his own record of riding 289 winners in a season.