British jockey Martin Dwyer enjoys rich pickings in Indian winter

By Cornelius Lysaght
BBC horse racing correspondent
Last updated on .From the section Horse Racing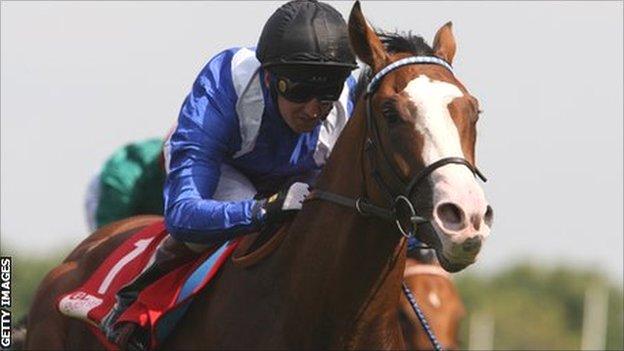 As the jockeys shiver their way through British Flat racing's winter 'all-weather' circuit, often chasing just a few hundred pounds, there's a notable absentee from their number this year.
Fed up with what he saw as the paltry rewards available, dual Classic winner Martin Dwyer packed his bags and headed off for richer pickings in the sunnier climes of India.
The decision has paid off handsomely with a string of big-race wins during a run that he hopes to extend on big fancy In The Spotlight in Sunday's Indian Derby in Mumbai.
"The money at home is shocking," said Dwyer, who has based himself in Bangalore. "Six-point-something per cent of 1,500 quid for a win isn't a lot, so this was a no-brainer.
"And a lot of the 'all-weather' is egg-and-spoon stuff, but here there are good races, so it's more enjoyable, and the weather's a lot better - 29C today. What's it like at Southwell?
"I've managed to win the Calcutta Guineas, Oaks and Derby on In The Spotlight, and she's banked 160 grand. It'd take a lot of brass-monkey Friday nights at Wolverhampton to do that."
Cricket has long been the priority for many Indian sports fans but in recent years the popularity of horse racing has grown as the quality has improved.
It has become easier to import horses to race or for thoroughbred breeding, an industry that has received the powerful backing of Ireland's Coolmore Stud.
Record-breaking Indian filly Jacqueline has already been mated with Coolmore's star stallion Galileo, and the Irish shrewdies are sure to be looking out for further commercial opportunities.
Liverpool-born Dwyer, who has tasted success in both the Epsom Derby (Sir Percy, 2006) and Oaks (Casual Look, 2003), has certainly noticed how Indian racing is taking off.
He said: "The standard has improved drastically, and my horse, In the Spotlight, would easily be able to do herself justice just below the highest level in Britain, say in Listed or Group Three races.
"And the crowds are something else. They absolutely love it, although the atmosphere goes a bit crazy, and if a favourite gets turned over, the beaten jockey could get anything thrown at him.
"It's the sort of thing that would get you very quickly chucked out of Goodison Park, but that's the way things go in India."
In The Spotlight - a daughter of the Dante Stakes winner Alnasr Alwasheek, now a leading stallion in India - and trained by Sadakshara Padmanabhan, is likely favourite for the £200,000 Indian Derby.
Amongst the opposition will be Dwyer's fellow temporary ex-pat jockey Richard Hughes, who takes the mount on Hills And Stars after getting a ban - for elbowing another rider during a race - reduced to a fine.
Dwyer added: "He'll need every weapon at his disposal to beat my filly; she's pretty good, and has helped me have a great winter, although I am looking forward to getting back home in March."