Lucinda Russell relishes rare winter racing boost

By Cornelius Lysaght
BBC horse racing correspondent
Last updated on .From the section Horse Racing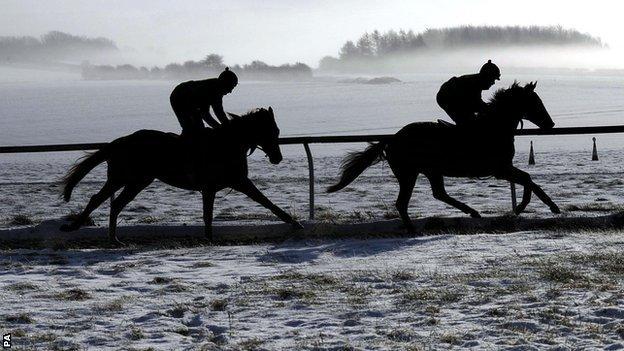 It's the north/south divide that the north doesn't mind at all.
Forget talk of fewer good-quality horses chasing poorer prize money, jump racing's north of England and Scottish circuit is revelling in an unexpected meteorological idiosyncrasy.
All too often used to braving blizzards, while the south races on through the winter, the boot is now firmly on the other foot, with Ayr in Scotland and Newcastle providing the sole recent jumping action.
"I'd never use the word 'smug,'" said Scottish trainer Lucinda Russell, with a grin, "and no one enjoys seeing racing off, but it is quite a turnaround after our last two dreadful winters."
During 2011's big freeze, when racing in the north was knocked out for weeks on end, temperatures at Russell's stables near Kinross, Tayside, plunged as low as -15C.
The worst this year has been - in her words - "a balmy" -7, and the most serious hold-up for her thriving string, as it heads towards a record season, was a day of hurricane-force winds.
"We can't use the woodchip [gallop] because it is frozen," said Russell who trains 90 horses, assisted by partner Peter Scudamore, the former eight-times champion jump jockey.
"But there's a sand gallop now that's well-rotavated and salted, and does a good job keeping us going."
An Ayr treble to take the stable's tally to 40 winners for the campaign, just short of its biggest total, is testament to that, but the trainer admits to having further targets in her sights.
"We're driving ourselves towards 50," said Russell. "[Now retired] Lenny Lungo holds the Scottish record of 63, and it would be great to have a go at getting to that one day.
"We've been lucky to have better horses - four really nice novice hurdlers and a couple of decent chasers - and obviously we've been luckier with the weather this time.
"It's been possible to train them and run them through the season, so they're probably fitter than they've ever been."
The 'nice novice hurdlers' include Cheltenham Festival prospect Brindisi Breeze, a horse which seems better the further he's asked to go, especially if ground conditions are on the soft side.
And, weather permitting, up-and-coming steeplechaser Bold Sir Brian will underline his big race potential if successful at Newbury or, nearer home, at Musselburgh this weekend.
"It's all going great," said Russell as we finished our conversation, "but, it's funny, we trainers are all a miserable lot and we're never satisfied.
"I keep ringing [bloodstock agent] Tom Malone and telling him to hurry up and go out and find me more horses and more winners."
As Lucinda Russell seeks to whip up her own storm, the Scottish weather may have met its match.