Grand National: Synchronised handed top weight
Last updated on .From the section Horse Racing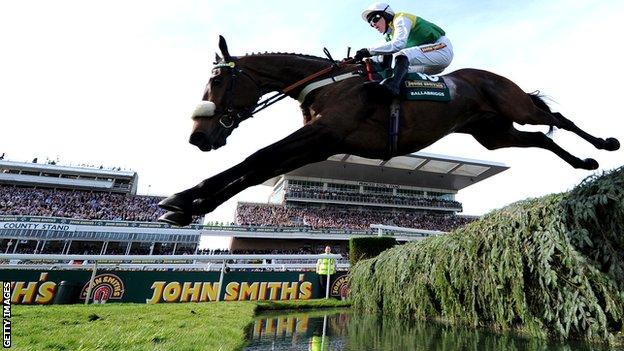 Synchronised has been handed top weight of 11st 10lb for this year's Grand National at Aintree.
The nine-year-old Lexus Chase winner, trained by Jonjo O'Neill, recently won the Leopardstown Grade One and in 2011 triumphed in the Welsh National.
Ballabriggs, who shouldered 11st to victory in last year's race, will be saddled with 11st 9lb on 14 April.
Weird Al and Midnight Chase both sit on 11st 8lb, while Irish Hennessy winner Quel Esprit is on 11st 7lb.
The Henrietta Knight-trained Calgary Bay and Paul Nicholls's Neptune Collonges are both on 11st 6lb, while John Hanlon's Alfa Beat and Philip Hobbs' Planet Of Sound have been allotted 11st 5lb.
"I'm very happy with his weight but I wanted 11st," said Hanlon. "He's in great form at the moment and he'll have a run in Down Royal in about three weeks.
"Good ground is vital to him and he should get it over there. The National has been his aim all year."
The David Pipe-trained Junior, the 14-1 market leader who has completed the rare double of winning at Royal Ascot and the Cheltenham Festival, failed to get in the field last year but has a certain place in 2012 with 11st 2lb.
"We are right where we thought we would be - Junior has enough weight with 11st 2lb, but the handicapper always compresses the weights to encourage the best possible field," said Pipe.
"That means that all of our entries are badly off with several of the top weights, but that is not a new scenario and the handicapper faces a very difficult task in trying to make the race as competitive as possible without alienating those further down the handicap."
Aintree managing director Julian Thick said: "It is tremendous to see 69 of the 82 entries in the handicap and the 2012 renewal of Grand National promises to be a race full of quality, with more horses rated over 135 entered than ever before."
A maximum of 40 runners will line up on the day and a series of safety measures are being introduced after the deaths of two horses in the race last year.
Three fences have been modified, the minimum age of runners has been raised from six to seven, and every contender must have finished in the first four of a steeplechase run over at least three miles.
Full weights:
Synchronised - 11st 10lb
Ballabriggs - 11st 9lb
Weird Al, Midnight Chase - 11st 8lb
Quel Esprit, Burton Point - 11st 7lb
Calgary Bay, Neptune Collonges - 11st 6lb
Alfa Beat, Planet Of Sound - 11st 5lb
Blazing Tempo, Roberto Goldback - 11st 4lb
Deep Purple, Black Apalachi - 11st 3lb
Junior, Scotsirish, Quantitativeeasing, Tartak - 11st 2lb
Apt Approach, Little Josh - 11st 1lb
Psycho - 11st 0lb
Chicago Grey, Tatener - 10st 13lb
Shakalakaboomboom, West End Rocker, According to Pete, Seabass - 10st 12lb
On His Own, Hector's Choice, Massini's Maguire - 10st 11lb
Cappa Bleu, Always Right - 10st 10lb
Crescent Island, Rare Bob - 10st 9lb
Mon Mome, Organisedconfusion, The Midnight Club, Treacle - 10st 8lb
Hold On Julio, Alan King, Arbor Supreme, Cooldine, Hold on Julio - 10st 7lb
Prince De Beauchene, Pearkysteps, Prince de Beauchene 10st 6lb
Roulez Cool, Niche Market, Stewart's House, Sunnyhillboy, Uncle Junior - 10st 5lb
Fair Along, Killyglen, Quiscover Fontaine, Tharawaat - 10st 4lb
State Of Play, Always Waining, Becauseicouldntsee, Le Beau Bai, Swing Bill - 10st 3lb
Postmaster, Shakervilz, The Package, Wymott - 10st 2lb
Backstage, Giles Cross, Hello Bud, In Compliance, Midnight Haze, Northern Alliance, Vic Venturi, Viking Blond - 10st 1lb
Qhilimar - 9st 13lb
Some Target - 9t 10lb
Neptune Equester - 9st 9lb
Any Currency - 9st 8lb
Our Island, Schindler's Gold - 9st 7lb
Abbeybraney, Saddler's Storm, Smoking Aces - 9st 5lb
King Fontaine - 9st 4lb
Another Palm - 9st 3lb
Ballyvesey - 9st 2lb
Minella Theatre - 9st 0lb