Jockeys 'will not exploit' new whip rules at Cheltenham Festival

Last updated on .From the section Horse Racing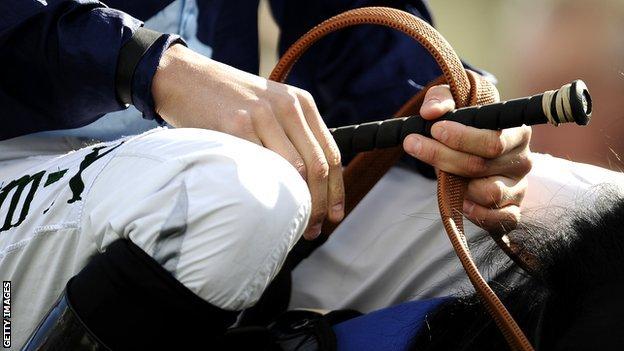 Jockeys will not exploit new whip rules at the Cheltenham Festival, says the man who represents British riders.
"The early signs are jockeys haven't suddenly gone 'these rules are new, let's use the whip as often as we used to'," said Paul Struthers.
"They haven't done that at all," the chief executive of the Professional Jockeys Association told BBC Sport.
The British Horseracing Authority ended the long-running dispute by amending rules again just before the festival.
Riders are now allowed greater freedom to strike the horse, and punishments are decided by stewards' discretion and not automatically triggered when jockeys exceed the limit.
"This allows jockeys to use their whip with a little more skill and confidence," explained Struthers.
"Likewise, it gives stewards scope to use their skill.
"Hopefully what we've seen is a resolution to the debate which has been ravaging racing for almost a year."
Jason Maguire's winning ride on Ballabriggs at last year's Grand National did much to prompt the original review.
Maguire was suspended for five days for using his whip with "excessive frequency" on Ballabriggs and, had the new rules been in place at the time, he could have also faced a fine of around £40,000.
The new rules still include a trigger for stewards to review a rider's use of the whip, which remains remains eight times or more for flat races and nine times or more over jumps.
But, rather than automatically meaning a breach and suspension, stewards will decide whether to hold an inquiry.
A revised penalty structure has also been introduced, after some jockeys complained that previous fines were too harsh.
Those who have backed tighter regulations have been concerned that in big meetings, such as at the Cheltenham Festival, jockeys might be tempted to overuse the whip in an effort to win prestigious races and bigger prize money.
But Struthers says his members will be responsible and measured at this year's Festival.
"I don't think there's any softening of the penalties to the degree that jockeys would simply ride now regardless of the rules," insisted Struthers.
"The disincentive, which I know is something the review really wanted to push through, that's still there."