Cheltenham Festival: Two more horses die on second day
Last updated on .From the section Horse Racing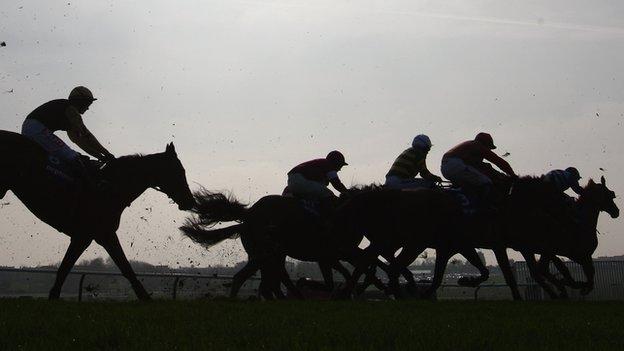 Two more horses have died at the Cheltenham Festival, taking the number of casualties to five.
Garde Champetre, Scotsirish and Educated Evans were all put down after breaking legs on the opening day.
Featherbed Lane suffered the same injury in the Coral Cup on Wednesday, while Abergavenny died after the race.
"It's sad when these things happen but we have a very good record here for horse welfare," said course clerk Simon Claisse.
Garde Champetre and Scotsirish suffered their injuries on the flat between fences.
"Two horses suffered injuries from which they couldn't recover in the Cross-Country Chase and had to be put down," said Claisse.
"That race has a very good record. We've had 375 runners in it since 2000, and only previously one fatality.
"Regrettably Educated Evans fell at the second last and fractured a hind leg."
The Cross-Country Chase was run on good to firm ground, while the going on the hurdles and chase courses was good, good to soft in places.
Animal rights group Animal Aid said nine horses had died at the festival over the last five years.
"The race in which Scotsirish and Garde Champetre were killed should never have taken place, given that it was dangerously firm ground," said spokesman Dene Stansall.
But British Horseracing Authority (BHA) spokesman Robin Mounsey said: "Like most competitive sports, racing carries risks.
"No-one wants to see valued and valuable racehorses injured so it is regrettable that several horses have now suffered accidents where the injury was not treatable and therefore euthanasia was the proper course of action.
"As with any equine injury or fatality, detailed data will be collected by the BHA examining the type of injury in question and the context in which it took place.
"This is routine for the BHA and shows how, as an independent regulator, the BHA works with the racecourses to manage and reduce risk where possible, making measured decisions based on racecourse data."
Racing welfare has been in the spotlight since two horses died in the 2011 Grand National. Modifications have been made to the Aintree course in an effort to make it safer.
Various safety measures were introduced at Cheltenham after nine horses died at the 2006 meeting.
Claisse added: "We review everything that happens here. Every casualty is reviewed. We are in close touch with the BHA and will analyse what happened."
"The BHA inspector was here for what we call the pre-inspection in advance and has been here today and walked the course."