Richard Hughes loses appeal against 50-day riding ban
Last updated on .From the section Horse Racing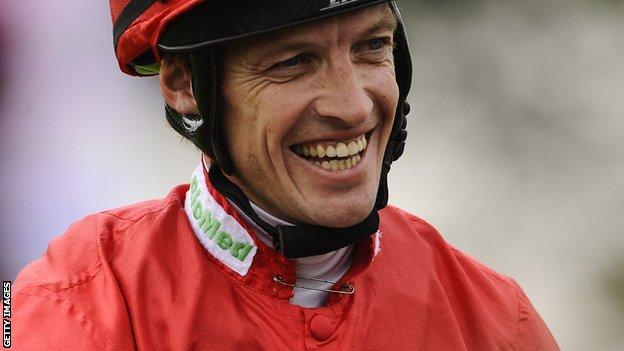 Top jockey Richard Hughes has failed in his appeal to the British Horseracing Authority (BHA) to overturn a 50-day ban incurred in India.
Hughes was suspended in February for reportedly not riding to instructions in a race in Mumbai, an offence that is not punishable under British rules.
The BHA chose to recognise the ban and upheld that decision at an appeal.
The Irishman will not be able to compete in Britain until 30 April, when the Mumbai season finishes.
It has dented the 39-year-old's hopes of winning a first jockeys' championship.
Hughes missed a big victory at Newmarket on Wednesday when Esentepe won the Nell Gwyn Stakes.
The jockey said on Twitter that he was bemused by the ban, and disappointed not to win the appeal.
"I thought I could have confidence in the UK system on fairness," he said.
"BHA has backed an opinion that I did not let a horse run on its merits without any evidence."
Jamie Stier, the director of raceday operations and regulation for the BHA, said he felt some sympathy for Hughes but believed it was correct to uphold the suspension imposed by the Royal Western India Turf Club.
"We would like to register on record that we recognise the frustration felt by Richard Hughes about this episode," he said.
"The BHA stands behind the principle of reciprocity of penalties among recognised international racing bodies. Without reciprocity, there is a risk of there being no effective measures to deter visiting participants from breaching the rules of the respective authority.
"Similar applications to those lodged by Richard Hughes are, thankfully, few and far between.
"However, we will be looking to see if there are any lessons to learn that may assist the handling of such matters in the future."
Hughes spent winters in India for much of his career and enjoyed success there, winning all four Classics on the filly Jacqueline in 2009 and 2010.
However, he has vowed not to return after a troubled stay earlier in the year. In January he was given a lengthy suspension for "foul riding", which was reduced to a fine on appeal.
Hughes has never won the British title but pushed Paul Hanagan all the way to the last day of the season in 2010.