According to Pete goes for glory in the Grand National
Last updated on .From the section Horse Racing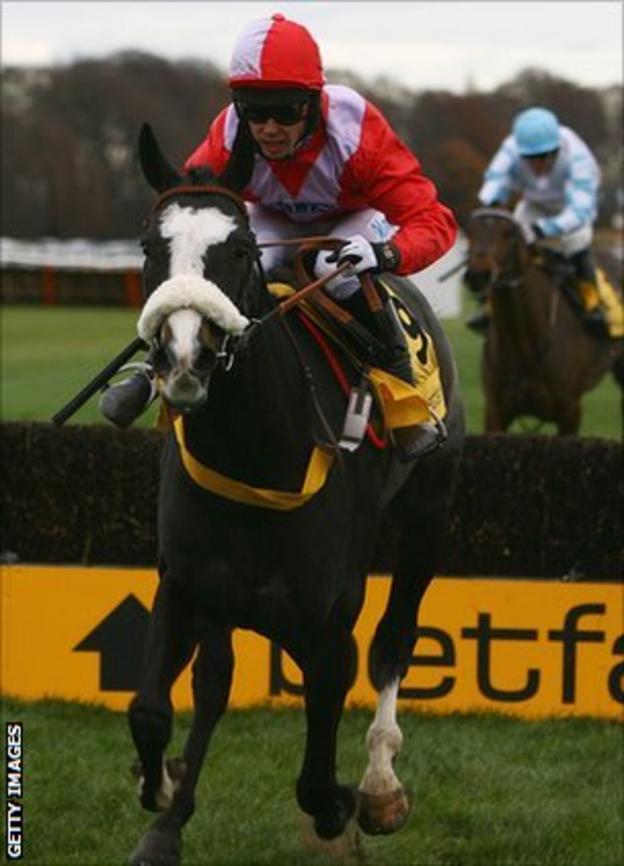 The owner of According To Pete is hoping his horse will become the first winner of the Grand National to come from Yorkshire since 1960.
The horse is trained by Malcolm Jefferson at Norton in North Yorkshire.
Owner Peter Nelson, who reared the horse in Helperby, told BBC Radio York: "It'd be nice for the first Yorkshire horse in about 40 years to win it.
"You go there with an open mind. It's a lottery. If he finished in the first seven or eight I'll be over the moon."
He added: "He's a lovely animal. He always does his best. You can rely on him to do what he can.
"He's a good jumper, he stays well, and hopefully he gets four and a half miles. He's done three and a half miles. Hopefully he gets it."
The last horse from Yorkshire to win the race was Merryman II, trained by Neville Crump at Middleham.
Nelson said: "Malcolm Jefferson does all the training. We go across on a weekend to see him.
"We saw him on Monday on the gallops and he went like a bird. He enjoys himself whatever he does.
"I am just a working lad, but I've got a wonderful horse and I think it's a great chance to show him off and give him a chance to run in the National.
"If he does any good, that's a bonus to us. I'm not sleeping. I hope he comes home safe. That's what we want. Anything else is a bonus. If he runs into a place or finishes that's a bonus.
"I think he has an outside chance if he jumps well."