According to Pete trainer wants bigger Grand National fences
Last updated on .From the section Horse Racing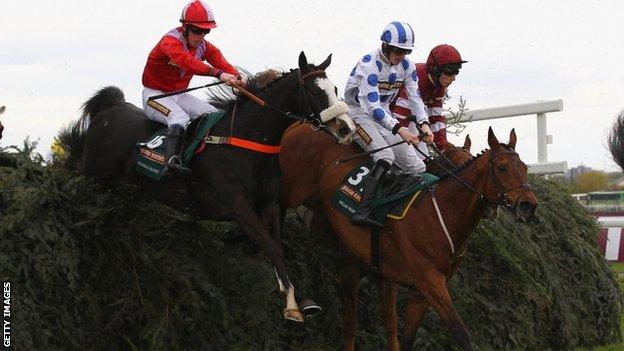 Trainer Malcolm Jefferson believes bigger fences at the Grand National could have saved his horse According to Pete, who died after Saturday's race.
Cheltenham Gold Cup winner Synchronised also had to be put down.
The deaths have led to calls for more modifications to the Aintree course.
But Jefferson said: "They can't carry on making changes. In my eyes the fences should be bigger to slow them down. If they were a foot higher Pete would still have jumped them."
An extensive review was carried out following the race 12 months ago when two horses also died.
Changes were made to the course, including reducing the drop on the landing side of Becher's Brook, where According to Pete fell. He was put down after suffering a fractured leg.
Jefferson added: "Now they are trying to please everybody and you can't. People say make the field smaller, but what if next year another two die? Then they'll want 20 runners.
"Watering to ensure softer ground might help. There was a lot of carry-on after last year's race and I just wish they'd stop trying to please everyone because you can't.
"It was just a freak accident. He was loving it, jumping for fun. If he'd just been brought down and got back up again we'd be taking him back next year, but he broke his shoulder unfortunately.
"You can't do anything about it, it's just a freak accident that could have happened anywhere, but because it was the National everyone saw it.
"The National is a great race and the only reason you get such a reaction is because so many people watch it.
"If I have a suitable horse next year, I'll enter him. You've got to support the race, it's our biggest day of the year."
The British Horseracing Authority's chief executive Paul Bittar will meet with animal welfare groups next week to discuss the Grand National.
Charity World Horse Welfare chief executive Roly Owers said: "Racing must understand that the public can no longer stomach almost regular deaths in this high-profile race.
"We fully appreciate, as should everyone, that all horse sport carries risks, but there are acceptable risks and unacceptable risks and it doesn't appear as if that balance is right in the Grand National."