Edward Gillespie - a tough act to follow at Cheltenham

By Cornelius Lysaght
BBC horse racing correspondent
Last updated on .From the section Horse Racing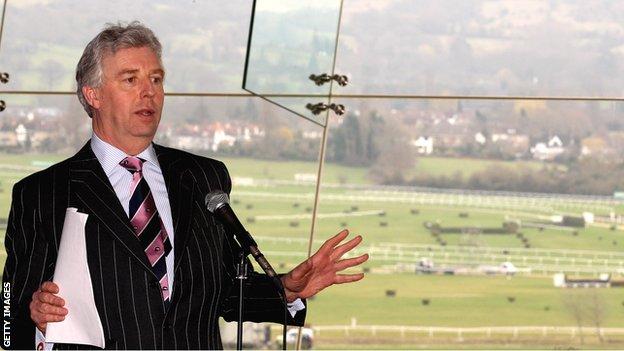 Thirty-two years stage-managing the Cheltenham Festival makes Edward Gillespie amongst sport's longest-serving administrators, let alone racing's.
When Sir Alex Ferguson joined Manchester United in 1986, Gillespie had already been involved in six Festivals.
His first ever agonising task was to receive back the 1980 Gold Cup from the owners of the 'winner' Tied Cottage when the horse was sensationally disqualified for failing a dope test.
Since then, Gillespie, a fan of amateur theatricals, has brought more than a whiff of the impresario to building jump-racing's showpiece event from near purist's paradise to the wide-ranging national event it is now.
It is more important than any other to the 'business of racing', and 2012's Gold Cup day was the most successful ever in terms of crowds with a record 70,458 people attending and betting.
The abandonment of the Festival in 2001 because of foot and mouth - sheep had been grazing (unnecessarily said some) on the track - may have been a low-point, but positives have generally outweighed negatives.
Gillespie's deft handling of this most traditional of worlds was key as he modernised and developed, particularly when convincing most sceptics over adding a fourth day to the Festival from 2005.
So, the successor to what is probably the biggest job in racecourse management, controlling a total of 16 days racing at jump racing's HQ, will, genuinely, have very large shoes to fill.
Top of the agenda are more controversial mooted changes to the Festival format, scrapping the midweek, Tuesday to Friday format, and including a Saturday for the first time.
Traditionalists absolutely loathe the idea, and Gillespie may not be entirely heartbroken that it'll be somebody else's skills of diplomacy that are tested in an attempt to persuade them of its merits.