Grand National: Aintree riders rebuked by BHA over start
Last updated on .From the section Horse Racing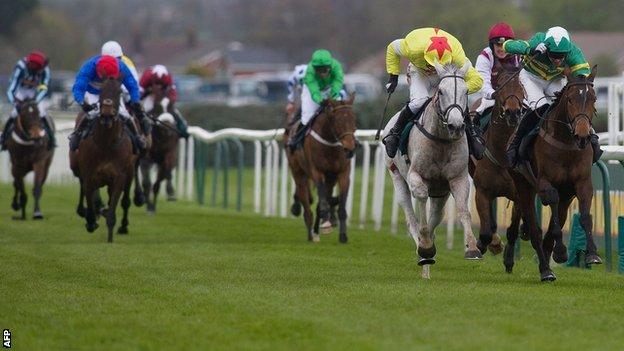 The British Horseracing Authority (BHA) has written to all 40 riders expressing its disappointment at their conduct at the start of the Grand National.
There were two false starts and jockeys breached rules by not abiding to instructions on lining up.
Two horses, Cheltenham Gold Cup winner Synchronised and According To Pete, died in the 14 April race at Aintree.
But the BHA said the start did not play a part in the horses suffering injuries which led to them being put down.
"It was apparent that factors one could neither have foreseen nor prevented were prevalent in the events that led to the horses sustaining their injuries," said Jamie Stier, BHA director of raceday operations and regulation.
In announcing the results of a preliminary review of the circumstances surrounding the fatalities, and the start of the race, Stier said it was too early to say if any changes to the contest would be made.
Although Synchronised got loose after unshipping jockey AP McCoy at the start, leading to an eight-minute delay, he was passed fit to race by a vet who found his heart rate was "barely elevated" above a normal resting rate.
Synchronised fell at the sixth fence, Becher's Brook, but continued riderless for another five fences before fracturing his leg.
According to Pete also suffered a fracture - at Becher's second time round - after being brought down when another horse, On His Own, fell in front of him.
The BHA said no disciplinary action would be taken against riders over the start, due to mitigating circumstances of the delay and difficulties in re-setting the starting tape.
"All 40 riders appeared to be in breach of the rules, in that they either lined up prior to being instructed to do so, or lined up despite being instructed not to do so," added Stier.
"The BHA has written to all the riders concerned and expressed their disappointment at the conduct of riders at the start, especially bearing in mind that considerable emphasis was placed on this aspect of the race during the pre-race jockeys' briefing.
"In showing disregard to the instructions of the starter, the riders placed those on the ground assisting with the start in a potentially dangerous situation."
Paul Struthers, chief executive of the Professional Jockeys' Association, said he disputed that all the riders had breached rules.
"We made submissions to the BHA explaining why we felt disciplinary action would be both ill-advised and unfair," he said.
"We are keen to work closely with both the BHA and Aintree ahead of the race next year in order to minimise as much as possible any contributory factors that cause difficulties for the jockeys, the horses and the starting team."
Neptune Collonges won the National by a nose from Sunnyhillboy in the closest ever finish to the race.
But the dramatic conclusion was overshadowed by the two equine fatalities, which prompted animal welfare groups to call for safety changes.