Andrew Balding dreaming of Epsom Derby win with Bonfire
Last updated on .From the section Horse Racing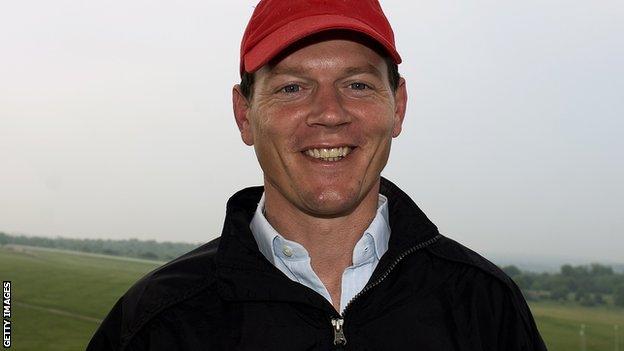 Berkshire's Andrew Balding says training a horse to victory in the Epsom Derby would be the biggest moment of his career.
Balding told BBC Surrey: "It's not just my dream, it's the dream of anyone involved in racing whether you're a lad, a jockey or a trainer.
"This is the blue riband event and the one everyone wants to win. To have a chance is very exciting for everyone."
He added: "All the great trainers and jockeys have all had their moment at Epsom.
"Your CV would never quite be complete if your name wasn't on there."
Balding is hoping to emulate his father Ian, who trained Mill Reef to victory at the Surrey racecourse 41 years ago.
"It's not just him - there are other trainers who I'd like to equal or some who haven't won it that I'd like to get one up on," he continued.
"For Dad, winning the Derby was a very special day for him. It would make him proud as well, which is an element.
"But you need luck because all good plans can go awry if you get knocked over at Tattenham Corner."
Kingsclere-based Balding believes that Bonfire is capable of upsetting the early favourite, the Aiden O'Brien-trained Camelot, at the Surrey racecourse this weekend.
"I think he's got a great chance," Balding continued. "Camelot is a very worthy favourite who is going to be a formidable opponent.
"We have legitimate claims of being second-favourites. I'd be surprised if the winner didn't come out of the first four in the betting.
"There's a great sense of occasion leading up to the event.
"Hopefully there won't be an anti-climax afterwards."