Black Caviar will not face Frankel in Goodwood showdown
Last updated on .From the section Horse Racing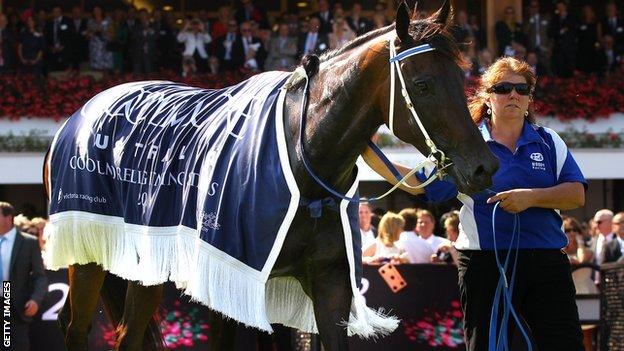 Black Caviar will not feature in the Goodwood Sussex Stakes, say the horse's Australian stable.
A potential prize fund of £1m was available for the mare to race the also unbeaten Frankel, but trainer Peter Moody has other meetings in mind for the five-year-old.
Royal Ascot in June is a target, as is racing in Melbourne later in the year.
"Moody Racing does not intend running Black Caviar in the Sussex Stakes, Frankel or no Frankel," Moody insisted.
While acknowledging the substantial prize-money on offer, Moody Racing were clear they will not be competing.
"We are not planning to nominate her for the Sussex Stakes at the nomination stage as we feel it would not be the right thing by the racing industry worldwide, giving false hope that the race may happen.
"We understand it would have been a great selling point for Glorious Goodwood... but we will have to decline on this occasion."
Goodwood will announce the entries for the Sussex Stakes, won last year by Frankel, on Wednesday 30 May. The Glorious Goodwood meeting takes place from Thursday 31 July to Saturday 4 August.