Epsom Derby: Andrew Balding says Bonfire has a 'decent chance'

By Cornelius Lysaght
BBC horse racing correspondent
Last updated on .From the section Horse Racing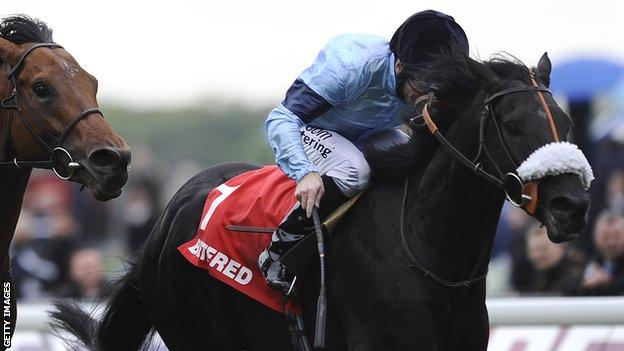 So much in Flat racing revolves around a good pedigree and, as such, Andrew Balding was probably born to do what he'll be doing at Epsom on Derby day.
It's taken 10 seasons to happen, but as second favourite Bonfire and outsider Minimise Risk become Balding's first Derby runners, you can't help but suspect destiny dictated it.
Generations of his family, on both sides, have been notable achievers in the sport, with his father Ian famously saddling the legendary Mill Reef for Epsom glory in 1971.
Since taking over in 2003, Balding junior has made their HQ at historic Kingsclere in Berkshire amongst the most upwardly mobile in the country, winning Epsom's Oaks in his first year with Casual Look.
"I think that I could recite the winners of the Derby before I knew my five times table," said the 39-year-old. "So, yes, it's something I've grown up with.
"There have been five trainers here, and three have had Derby winners, and of course it's lovely to think that I have now got runners, one in particular with a decent chance of winning."
Bonfire, ridden by veteran Jimmy Fortune in the silks of a 20-share Highclere Racing syndicate, staked his Classic claim with a narrow but decisive success in the often significant Dante Stakes at York.
There, the colt's much talked-of fiery temperament, sure to be tested amidst the hullaballoo of Epsom, seemed to have dampened down a little, and he looked to have matured.
"He's been a challenge," said the trainer. "And he did a little bit of a stop, whipping round before cantering to the start at York, but he's definitely improved this year.
"He has his moments - all horses do - and anyway, there are lots of athletes, equine and human, who aren't all straightforward, but who are pretty brilliant when competing. Hopefully he's one of them."
In a remarkable twist, Bonfire was raised not only at the same stud, but also in the same four-colt paddock, as the Derby favourite Camelot. Minimise Risk, plus the Irish 2000 Guineas winner Power, was with them.
The thought that horses which once frolicked innocently in the same field as foals should now line up as rivals for Flat racing's most famous prize adds a pleasing extra dose of fairytale to the race.
But Balding, whose sister Clare presents BBC TV's final coverage of the Derby before it switches channels next year, sees little room for bromance.
"We have a real chance with Bonfire, but the noises coming out of Ballydoyle [where Camelot is trained by Aidan O'Brien] indicate that we are up against a real beast.
"They're saying Camelot's invincible, but we're worthy opponents for anyone, and I can't wait to have a go at him."