Black Caviar wears compression suit for flight before Royal Ascot
Last updated on .From the section Horse Racing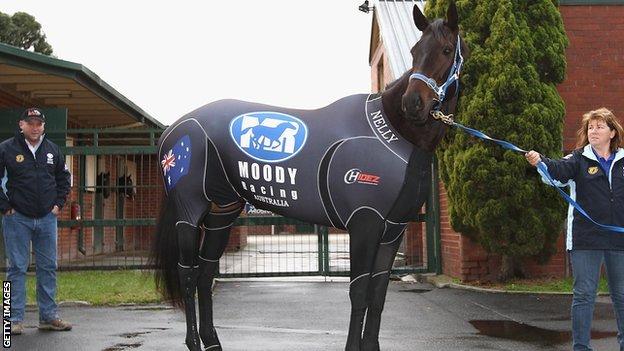 Record-breaking Australian mare Black Caviar had extra help for a 30-hour flight to Britain for Royal Ascot.
The unbeaten 21-time winner arrived in the UK wearing a body compression suit, similar to those used by athletes, to aid blood movement during her trip.
Trainer Peter Moody said the suit was recommended by Australia's Olympic 110m hurdle gold medal hope Sally Pearson.
"I thought if it's good enough for Sally Pearson, it's good enough for Black Caviar," Moody said.
Moody got the idea for the wetsuit-style aid from a rival trainer John McNair, who used it on his top sprinter Hay List.
"It's a compression suit that helps generate blood flow. We all get a bit weary when we are travelling, and she is going to be no different," said Moody, who is based at Caulfield, near Melbourne, in Victoria.
"When we are travelling we have got the option of getting up and going for a walk. She's going to be standing in her horse box for 30-odd hours, so she's not going to have that opportunity to exercise.
"Anything that can aid her in the travel we are throwing at her. On taking advice from a vet and a chiropractor and knowing that Black Caviar has always been susceptible to soft tissue injuries, muscle tears and the like, we thought it might aid her.
"We've had it on her here at home for a couple of weeks and she's got well and truly used to it."
The suits, made of a revolutionary moisture-management fabric and fitted with zippers, are manufactured by Sydney firm Hidez. The compression is said to help circulation and supply more oxygen to muscles.
Black Caviar has become a household name in Australia with her record sequence of victories.
The five-year-old mare, nicknamed Nelly, will race outside her home country for the first time when running in the Diamond Jubilee Stakes at Ascot on 23 June.
Stable vet Peter Angus and assistant trainer Tony Hatdon were by the horse's side throughout the flight, which included stopovers in Singapore and Sharjah.
Moody said his sprinter, who is odds-on favourite to win at Ascot and will be stabled in Newmarket, had never been in better shape ahead of Wednesday's flight.
"She paraded today the fittest that she's ever been in her life and I've purposely done that. I don't want to have to do much with her when she gets there (England) I want her in peak condition," said the trainer.
"Facts and figures tell you there is not a horse out there that can beat her. Fingers crossed if nothing goes wrong, she wins."
To mark Black Caviar's Ascot run, a giant screen will show the race at 00:45 local time in Federation Square, Melbourne.
"Black Caviar has captured our imagination as one of Australia's greatest racing sensations. In her distinctive salmon and black silks, I have no doubt she'll be a sensation on the track at Royal Ascot," said Dennis Napthine, Victorian Minister for Racing.
"We are hoping many Victorians and visitors to Melbourne will come together to share this moment in racing history live."