I'll Have Another retired to stud after injury ends Triple Crown bid
Last updated on .From the section Horse Racing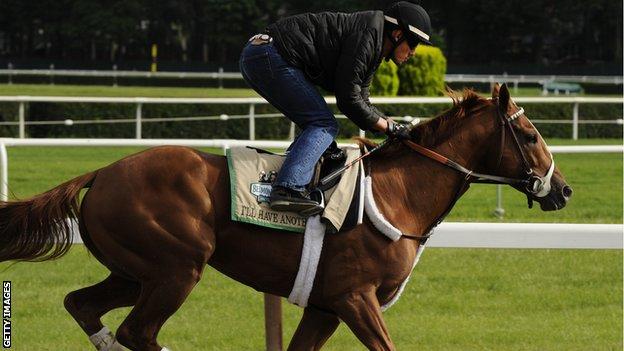 I'll Have Another has been retired to stud after injury ended his career.
The three-year-old had earlier been withdrawn from Saturday's $1 million Belmont Stakes with a swollen tendon.
The colt was bidding to be the first horse to win the Triple Crown of the Kentucky Derby, Preakness Stakes and Belmont Stakes since 1978.
"Though it's far from tragic, no-one died or anything like that, it's extremely disappointing," said trainer Doug O'Neill.
"This is extremely tough for all of us. I feel so sorry for the whole team. We've had such an amazing run."
Bought by Canadian businessman J. Paul Reddam for $35,000, the horse won $2.7m during his racing career but could now earn double that in stud fees.
Reddam felt that the horse could have run on Saturday, but he did not want to take a risk.
"He's not lame, he could have run," Reddam declared. "But we have to do what's best for the horse.
"If he can't compete at the top level, he's done enough. History is going to have to wait for another day."
I'll Have Another was odds-on favourite to win Saturday's race, where his closest challenges were expected to have come from Union Rags and Dullahan.
Union Rags could only finish seventh in the Kentucky Derby, while Dullahan was in third, and both horses were left out of the Preakness to focus on the Belmont.