Royal Ascot: Black Caviar creates global interest

By Cornelius Lysaght
BBC horse racing correspondent
Last updated on .From the section Horse Racing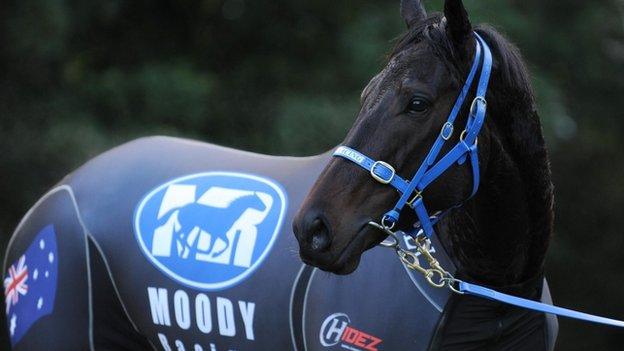 No-one is quite sure why Black Caviar was given the stable-name 'Nelly' when joining trainer Peter Moody's team at Caulfield in Melbourne.
But as the unbeaten mare goes through final preparations ahead of an attempt at extending her winning streak to 22 in Royal Ascot's prestigious Diamond Jubilee Stakes, it's certainly appropriate.
The circus of interest surrounding the horse, Moody himself, the owners and jockey Luke Nolen, back home in Australia and also in Britain, is little short of elephantine.
From the moment Black Caviar arrived at Heathrow Airport, protected against the rigours of long distance travel by a specially designed compression suit, she's stirred media attention to a level to satisfy any ringmaster.
And in Melbourne, thousands are expected to defy winter temperatures in Federation Square, the equivalent of London's Trafalgar Square, to watch the race live on large screens in the middle of the night.
The Queen, in whose honour the big-race title has been changed from the Golden Jubilee Stakes, is said to relish the prospect of meeting the queen of Australian racing.
''It's been unprecedented, I think," smiled Queensland-born Moody, 42, whose string of around 150 horses has become one of the most feared in Australia.
"I can tell you from my own mobile and email, it's become a worldwide kind of odyssey with interviews from all over the globe. She's created a hell of a lot of interest like our industry at home probably has never experienced.
"It's great to see racing promoted for having a great horse. When you see racing leading the news or the newspapers, it's usually about something untoward, and it's great to see us at the forefront for something of a positive nature."
A close pedigree tie-in with Magnus, Moody's previous Royal Ascot runner, when running twice at the 2007 meeting - including a third place - and once more in 2008, attracted the trainer to Black Caviar.
He admits that the AUS$210,000 (£135,000) paid by the 11 members of the Werrett Bloodstock syndicate in whose pink and black silks she competes, seemed perhaps "three or four fold" too much at the time.
Not now, with AUS$6m (£3.6m) banked, as well as an official world ranking that makes her easily the outstanding sprinter, and second only to British-trained star Frankel in terms of the best all-in racehorse on the planet.
But, Moody agreed, the six-furlong (1,200m) Golden Jubilee Stakes, part of the Global Sprint Challenge, is something very different, and it was "a big call... a risk" to even agree to make the 10,000-plus mile trip to Ascot.
"History suggests that all the great horses haven't travelled," he said. "They've all done it on their own shores, and she's being a bit of a ground-breaker in that way.
"So, congratulations to the owners for putting it on the line.
"Facts and figures tell you that any opposition in the world would struggle to measure up to her, but the fact is that she's three-quarters of the way round the world and in unfamiliar territory."
Last year's winner of the Golden Jubilee Stakes, Society Rock, the talented French mare Moonlight Cloud and Bahrain challenger Krypton factor are amongst those expected to take on Black Caviar.
British bookmakers have her as their long odds-on favourite, though sceptics have questioned the quality of some rivals during the six-year-old's winning sequence which began back in April 2009.
Unsurprisingly, that school of thought receives little truck from Peter Moody.
He said: "Well, in her last 15 or 16 starts, there's been a Group One winner in it, and they've been different horses on most occasions. She's beaten sprinters, she's beaten milers, she's beaten stayers, a great variety.
"It's a bit like your champion Frankel. He's beaten the same ones the last eight times, hasn't he? And [with a mischievous chuckle] his rating keeps going up, and hers doesn't - it's odd that."
Viewing Black Caviar's long list of victories, most recently last month's Group One Goodwood Stakes in Adelaide, it is impossible not to be taken with the manner in which she dismisses the opposition.
"She has unbelievable strength about her," said Moody, "and compared to [the second-highest rated sprinter in the world] Hay List, it was measured that she takes nine strides per furlong (200m), and he takes 11.
"So, she can actually go a bit slower and still beat him.
"She has this aura of invincibility about her, and I'm as hopeful as I can be that I won't make a mug of myself or my horse at Ascot."
Traditionally Pommies don't, of course, like to contemplate sporting success for the Aussies, though at Royal Ascot, for an extraordinary horse on an extraordinary run, an exception might just be made.