Jamie Goldstein rides four winners at Les Landes again
Last updated on .From the section Horse Racing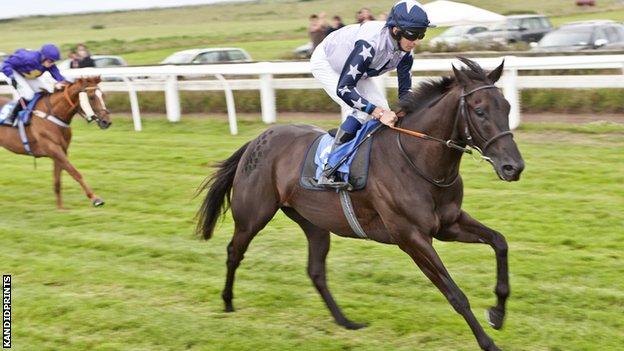 Jockey Jamie Goldstein is celebrating dominating the annual Evening Meeting at Jersey's Les Landes once more.
For the second consecutive year he rode four of the five winners.
Goldstein clinched the first three races on Nordic Affair, First Cat and Major Maximus.
Mark Lawson on the 6-4 Rebel Woman stopped the procession, but Goldstein finished the night in style on the Jersey Champion Hurdler and favourite Landolino.
Results
1st race - Nordic Affair (J Goldstein, 9-5); Monkhair (M Batchelor, 5-2); Fine The World (T Clark, 8-13).
2nd race - First Cat (J Goldstein, 9-4); Spanish Bounty (M Batchelor, 2-1); Fast Freddie (M Lawson, 9-4).
3rd race - Major Maximus (J Goldstein, E); Becks Bolero (S Doyle, 5-1); La Verte Rue (J Marshall, 7-2).
4th race - Rebel Woman (M Lawson, 6-4); Lady Petrus (Marc Goldstein, 6-1); Sumbe (J Goldstein, 5-1).
5th race - Landolino (J Goldstein, 1-2); Lang Shining (J Marshall, 4-1); Neuilly (M Batchelor, 11-8).