Trainers warned after one-horse race protest at Worcester
Last updated on .From the section Horse Racing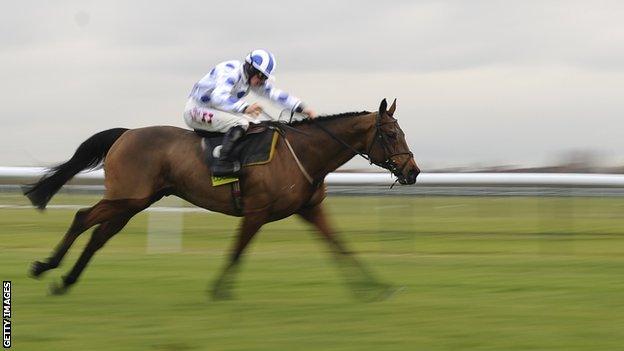 Trainers will not be punished over a boycott which led to a one-horse race at Worcester but face disciplinary charges if they repeat the protest.
Moulin De La Croix was handed a win by walkover on 11 July as the 11 other horses were withdrawn from the partex-direct.co.uk Novices' Hurdle
Trainers pulled out of the race in protest at low prize money.
The British Horseracing Authority (BHA) said the boycott was "disrespectful to the race-going and betting public".
Jamie Stier, the BHA's director of raceday operations and regulation, said the National Trainers' Federation (NTF) had been told no further action would be taken but a repeat would result in charges "for acting in a manner prejudicial to the proper conduct and reputation" of racing.
He added: "We have asked the NTF to advise their members that, should they wish to continue to protest about levels of prize money, they should find a way of doing so which does not involve abusing the race entry and declaration process or any other rules of racing.
"If there is a repeat of the incident, the BHA will not hesitate to bring charges."
Trainers pulled out of the race when prize money fell below the level set out in the Horsemen's Group tariff by £900.
Moulin De La Croix, trained by Nigel Twiston-Davies and ridden by his son Sam, took to the course alone to secure the full prize fund of £3,000.
Ten of the trainers who withdrew their horses were fined £140.The delegation of trainers decided to let one horse run rather than withdrawing all 12 so the prize money could be collected and distributed between the trainers.
Gary Moore was not fined for withdrawing Cabimas, who ran the previous day at Uttoxeter.