Worcester Racecourse officials count cost of abandonment
Last updated on .From the section Horse Racing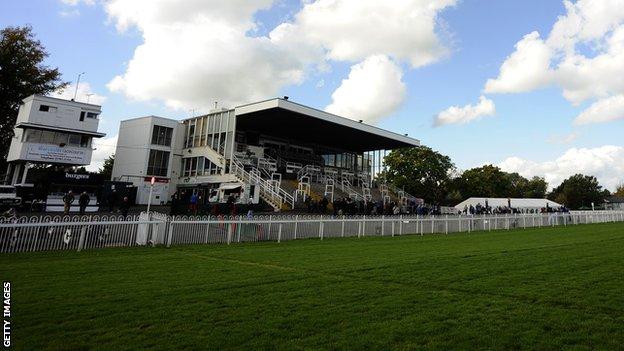 Worcester Racecourse officials are counting the cost of their abandoned meeting on Wednesday, 18 July.
Heavy rain put paid to any chance of racing on the Pitchcroft track, which was due to stage a six-race card.
"Inevitably when a race meeting is lost on the day there are quite a few expenses incurred," clerk of the course Fergus Cameron said.
"We have vets, doctors and ambulance staff so contractually there will be payments made to all of them."
The track was passed fit for racing following an early-morning inspection but the heavy rain at lunchtime proved too much for the track to take.
Cameron admitted the track's close proximity to the River Severn means the racecourse's parent company, Arena Leisure, are unable to insure against such eventualities.
"Sadly, Pitchcroft is a flood plain and inevitably, by default, we are not able to get abandonment insurance due to flooding," he said.
"So we just have to take the hit and with only 17 race days per year every one counts."
Disappointed Worcester racegoers will not have to wait long for the next card as the Pitchcroft track is in the midst of a busy run of fixtures.
Cameron is cautiously optimistic that the situation will improve and admits he is been pleased they have largely escaped the worst effects of the wet summer.
"We are due to race next Wednesday afternoon [25 July] and then race the following Tuesday evening, on 31 July.
"We then have a little bit of a gap after that but the way the spring and summer have been we've been fortunate to have got as far as we have without too much interruption."