Sandown goes metric as metres are tested alongside furlongs

By Cornelius Lysaght
BBC horse racing correspondent
Last updated on .From the section Horse Racing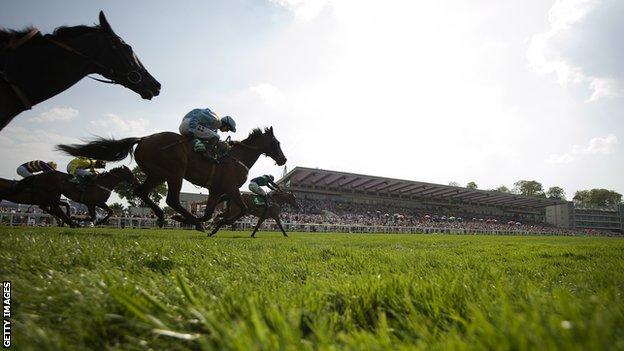 British horse racing is set to trial metric measures in a move that could make the furlong a thing of the past.
Racing For Change (RFC), the group charged with making British racing more accessible, is behind the test, which starts on Wednesday at Sandown.
Distance markers at the Surrey course will show furlongs and metres, while racecards will show jockey weights in kilos as well as stones and pounds.
RFC has described the use of furlongs to measure race distances as 'archaic'.
It believes the initiative, also being trialed this summer at nearby Kempton and Epsom, could make racing less confusing to younger visitors and those from abroad.
"Imperial measures don't mean a great deal to kids and tourists," said Rod Street, RFC's chief executive, "so it makes sense to trial the use of metric information.
"This summer, [because of the Olympics] our London racecourses are expecting a significant number of overseas visitors, as well as British families."
Although the move has the backing of Italy-born jockey Frankie Dettori, it is likely to be less well received by insiders within the notoriously traditional and hard-to-please racing industry.
Since the birth of racing as we know it in the 17th century, furlongs - relating to old English for 'long furrows' and the length of an acre - have been used to measure races.
Eight make a mile, with the shortest being staged over five.
Racing For Change tried to remodel the display of betting prices in 2010 by introducing decimal odds alongside the traditional fractions, such as 2/1, at Ascot.
But the plan was dropped after the trial drew little support.