Tom Queally reflects on 'indescribable' Frankel

By Cornelius Lysaght
BBC horse racing correspondent
Last updated on .From the section Horse Racing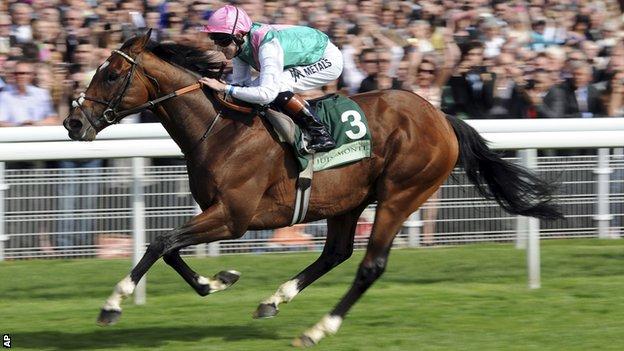 By Tom Queally's own admission, he and Frankel have "grown up nicely together".
Since the colt made his debut at Newmarket in August 2010, he has developed from potential tearaway to towering world champion.
At the same time, his jockey's own rating has soared from not quite the finished article to a position close to the summit of his profession.
The almost reckless exuberance of their wide-margin 2000 Guineas success is in the past now, as is the stinging criticism of tactics employed when the pair only squeaked home in the St James' Palace Stakes at Royal Ascot.
This year, as they've raced to a record-breaking sequence of Group One wins, the words "well-oiled machine" have regularly sprung to mind. But how much longer will it all last?
Sooner rather than later, stud duties will beckon for one, while the other begins on a seemingly impossible search for the next Frankel.
That thought was clearly in the mind of Irishman Queally, 27, as he chatted after the pair's most glittering victory to date in the Juddmonte International Stakes at York. It was Queally's 19th at Group One level.
"He's not even gone [into retirement] yet and I'm missing him, you know," he said in the quiet, thoughtful manner that is his trademark, just a modest smile creeping across his face.
"It's been an amazing part of my career and everything I'm do from now on is going to be an anti-climax, isn't it? I won't find another one like him.
"I could stand here all day and go about trying to describe him, but words don't describe him."
Friends say that words aren't often a problem for Queally.
Born in County Waterford, into a racing family - his father is a trainer and his amateur jockey brother rode at this year's Cheltenham Festival - he's always been considered bright and sharp.
As a teenager, after taking Irish Flat racing's champion apprentice's title, at the insistence of his parents, he returned to school to complete inevitably neglected studies.
And Tony Elves, his race-ride booking agent, believes it all shows today.
He said: "He has a great knowledge of various things, not just racing. Technology is one; he set up everything on my computer and when it comes to watching films, it's proper films, not crap.
"During the season, he's totally focussed, but when he plays, he plays, and he's got a really dry sense of humour that isn't always seen."
What sections of the media wanted to witness when Frankel began to emerge as a huge force, during 2011, was noisy appreciation of the horse from the man on top.
But Queally, employed since 2008 as number one jockey by Frankel's famously colourful trainer Sir Henry Cecil, wasn't really up for it.
I recall him being unfailingly polite, but, for many palates, also far too economic with words, particularly with that favourite of journalistic questions about the pressures of the job.
It led to some prickliness, but that has evaporated recently.
And at Glorious Goodwood in August, after Frankel's success in the prestigious Sussex Stakes, he enthused: "Any day you ride him, you have loads of pleasure because he's always winning, and although there's always a little bit of pressure, I like to think I deal with it well enough.
"It's a complete pleasure to be around him and an awful privilege for me, one that I really appreciate."
It's been a pretty extraordinary time, one in which Tom Queally will always be remembered for helping to make Frankel, and also vice versa.