Neuilly wins Clarendon Handicap at Les Landes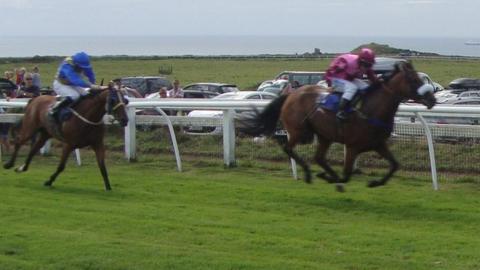 Evens favourite Neuilly won the feature race, the Clarendon Handicap, on the final day of the season at Jersey's Les Landes.
Ridden by Mattie Batchelor and trained by Alyson Malzard, Neuilly led from start to finish to win by two lengths.
Garden Party (11-8) came second for the second year in a row.
Fine the World, owned by Jersey bookmaker Neville Ahier, was third while River du Nord was fourth.
The meeting marked the end of a season marred by bad weather which hit attendance figures and finances for the Jersey Race Club.
Results
The St Brelade's Handicap Hurdle - The Lemonpie (M Batchelor, 1-2); Landolino (J Goldstein, 15-8); Nordic Affair (M Goldstein, 4-1).
The Tot Le Pennec Memorial Handicap - Copper Falls (J Baudains, 5-2); Spanish Bounty (M Batchelor, 15-8); Nordic Light (J Marshall, 10-1).
The Ytel Clarendon Handicap - Neuilly (M Batchelor, Evs); Garden Party (J Goldstein, 11-8); Fine the World (T Clark, 2-1).
The Glory Bee Memorial Handicap - Vamos (J Marshall, 6-4); Lady Petrus (M Goldstein, Evs); Superduper (M Batchelor, 15-8).
The Animal Health Trust Jubilee Mile - Grey Panel (T Clark, 2-1); Grenane (L Pike, 6-1); Becks Bolero (M Lawson, 11-8).