Former jockey and BBC broadcaster Lord Oaksey dies
Last updated on .From the section Horse Racing
Former jockey, journalist and founder of the Injured Jockeys Fund Lord John Oaksey has died, aged 83.
Oaksey passed away on Wednesday at his family home in Wiltshire following a lengthy period of ill health.
During his riding career, he won the 1958 Hennessy Gold Cup at Cheltenham aboard Taxidermist and came second in the 1963 Grand National on Carrickbeg.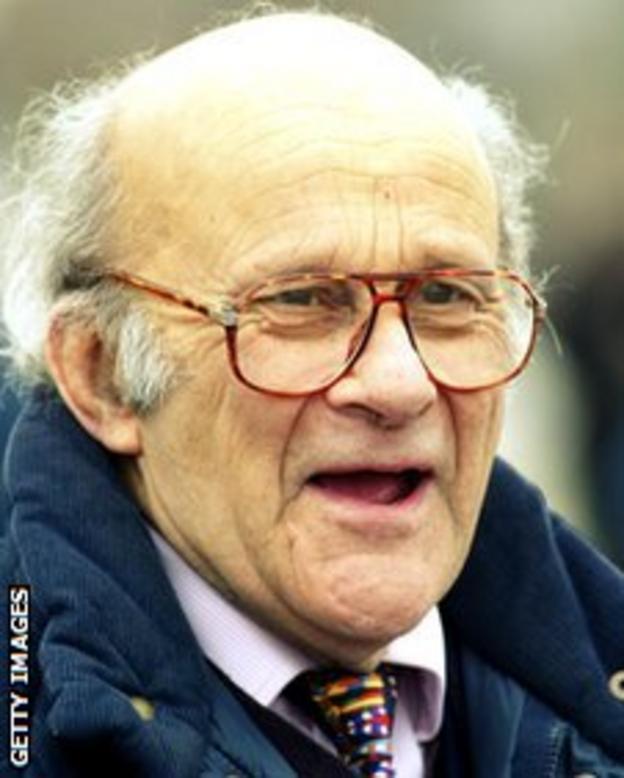 His media work saw him write for the Daily Telegraph and appear on ITV, BBC Radio and Channel 4 Racing.
He retired from broadcasting in 1999.
Following the career-ending falls of Tim Brookshaw and Paddy Farrell in the Grand National in 1964, Oaksey was a key mover in establishing the Brookshaw-Farrell fund to help the injured riders.
That fund eventually became the IJF and the charity has helped over 1,000 riders since those early days.
Lisa Hancock, chief executive of the IJF said: "It is a sad day for us all here. He was very proud of his involvement.
"He was a fantastic man and we all feel very proud to be part of what he started and to be continuing his work in the future."
BBC Sport racing correspondent Cornelius Lysaght said: "John Oaksey was quite possibly the outstanding racing figure of modern times, touching so many via his compelling writing, broadcasting, race-riding and tireless fund-raising.
"Regularly appearing on TV in the silks and breeches of his next or previous race, or effortlessly filing golden prose on races in which he'd just competed, he packed so much into one life.
"And he was genuinely a good man, treating everyone with the same kindness, from the in-awe junior that I was on our first meeting to any senior beneficiary of 'his' Injured Jockeys' Fund.
"Oaksey founded the IJF in 1964 having seen close up the problems faced by regularly-hurt riders, and, to this day, it's still doing good works as perhaps his greatest legacy of all."