Footballers charged over horse racing betting
Last updated on .From the section Horse Racing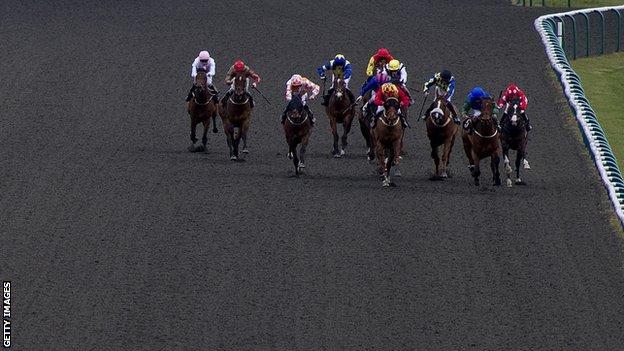 Three footballers are among a group charged by the British Horseracing Authority (BHA) over an investigation into "suspicious betting activity".
Ipswich's Michael Chopra, Nottingham Forest loanee James Coppinger, ex-Manchester United player Mark Wilson and six others are accused of "serious breaches of the rules of racing".
Jockey Andrew Heffernan is also among those charged by the BHA.
The allegations focus on betting on horses to lose on betting exchanges.
The BHA said the races at the centre of the investigation took place between 1 November 2010 and 31 March 2011.
The charges relate to Heffernan's riding of three horses - Wanchai Whisper (15:25 at Lingfield, 28 January 2011), Gallantry (19:20 at Kempton, 2 February 2011) and Silver Guest (13:55 at Lingfield, 9 February 2011).
In addition to Chopra, 28, Coppinger, 31, Wilson, 33, and Heffernan, the BHA said five "unlicensed individuals" - Paul Garner, Kelly Inglis, Yogesh Joshee, Douglas Shelley and Pravin Shingadia - have also been charged.
Forward Coppinger is on loan at the City Ground from Doncaster.
Heffernan, who now races in Australia, is alleged to have "communicated directly or indirectly to one or more Betting Exchange account holders information relating to the prospects in the race of that horse".
The BHA said the "unlicensed individuals" were accused of "using information they had received directly or indirectly from the jockey or other licensed person relating to the prospects in the race of the named horse".
Former Cardiff striker Chopra, Garner, Joshee, Shelley and Wilson have also been charged with offering bribes to Heffernan.
Inglis is charged with offering to take a bribe or bribes from Chopra, Garner, Joshee, Shelley and Wilson.
Garner is charged with placing lay bets - betting on a horse not to win - on horses trained by Alan McCabe, when he was working as a stable employee for McCabe.
If found guilty, those accused face disqualifications from involvement in horse racing.
Paul Scotney, director of integrity services, compliance and licensing for the BHA, said: "The charges BHA has issued today are the result of a long and complicated investigation.
"This process has taken significant time and resources. However, investigations such as these are very similar to fraud investigations and as such are complex and time consuming."