Frankel and Sir Henry Cecil form the perfect partnership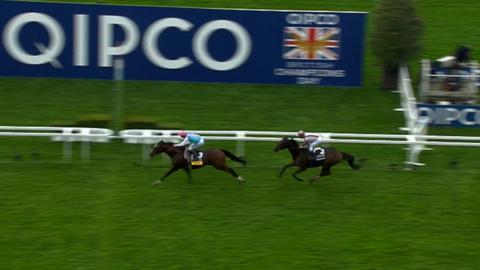 Great champions triumph in adversity. In wonder horse Frankel and his remarkable trainer Sir Henry Cecil, there is a perfect example.
When the cheers rang out around Ascot's parade ring as the colt's unbeaten career ended on a rapturous winning note, they were for Cecil as much as his brilliant colt.
Frankel's youthful exuberance may contrast starkly with his ageing master's ailing health, yet the pair have formed a beautiful, victorious partnership.
A 14th consecutive triumph, in the Champion Stakes, bookended their heartwarming tale. It was little surprise people were close to tears in the winner's enclosure.
Dubbed the equine Usain Bolt, Frankel bore the hallmarks of the champion sprinter as he started slowly, made smooth progress and showed enough class to beat high-quality opponents.
He was left a few lengths adrift coming out of the stalls and ran on the most gruelling ground of his career against a mud-loving specialist in Cirrus Des Aigles, but still emerged the victor.
Cecil, who has battled stomach cancer for six years, acknowledged the horse had helped him through the tough times.
"I have enjoyed every moment of training him, although it has been slightly stressful at times," said the 69-year-old in a croaky voice that illustrated the depth of his illness and regular chemotherapy.
"He's the best that I have ever had and the best that I've seen."
Cecil is the 10-time champion trainer, the winner of 25 domestic Classic races and owns a CV that boasts more than 70 Royal Ascot wins.
But he was rocked by the death of his twin brother David from cancer in 2000, a divorce from his wife two years later and his career hitting rock bottom.
In 2005 - a year which reaped just 12 winners rather than the scores he was used to - Cecil overheard an observer on the Newmarket gallops remarking: "That's Henry Cecil, he should have retired years ago."
Cecil wasn't having any of it. And when a uniquely talented horse - named after the legendary American trainer Bobby Frankel who died in 2009 - came to him, he plotted a crowning glory to his own career.
"He has come back from the Conference to the Champions League and Henry is a master of his profession," said Teddy Grimthorpe, racing manager to Frankel's owner Prince Khalid Abdulla.
"His handling of the horse is masterly and he was determined to do the right thing by him."
Breathtaking successes, highlighted by last year's runaway 2000 Guineas win, made Frankel a horse that captured the public's imagination.
While his swansong lacked the impressive winning margins of previous victories, a sell-out 32,000 crowd provided a wall of noise from three furlongs out that provided a raucous backdrop to his final fling.
Scouser Phil Shutt, who lives near Aintree racecourse - the home of jump racing's Grand National - made a seven-hour, 450-mile round trip with friends for his first visit to Ascot. Just to see Frankel.
"We came to see history in the making. We think he's the greatest racehorse of all time," said the 25-year-old retail merchandiser.
"It's the power and the style. People will be talking about him in 50 or 60 years' time. We had to be here to see him. I'm quite choked by it all."
Proud jockey Tom Queally, who has been on board for all 14 wins, called his mount "one in a million" and said the decision to retire him was right.
"What else can he do unless he jumps out of the air like Felix the Austrian spaceman?" said the Irishman.
"He's the horse of a lifetime and it's been an amazing journey."
Debates will continue over whether he is the greatest horse Flat racing has seen.
He is officially ranked second best behind Dancing Brave and others will point to their own favourites such as Sea Bird, Mill Reef, Brigadier Gerard and Sea The Stars.
If there is one flaw in Frankel's impeccable record, it is that all his wins came over distances between seven and 10 furlongs.
He never raced outside England and did not take the challenge of the Epsom Derby or Prix de l'Arc de Triomphe over 12 furlongs (a mile-and-a-half).
Ian Balding, trainer of the 1971 Derby winner Mill Reef, told me: "You can't compare horses from different eras but Frankel is the best we have seen in however long.
"Mill Reef was so versatile he won from five lengths to a mile-and-a-half.
"I just wish Frankel, in a way, had run in the Arc. I think that would have been a real test, a mile-and-a-half in soft ground in France.
"Sea The Stars was a great horse, too, and as good looking a horse as I've ever seen, but he was never flamboyant. He never did more than he had to whereas visually, Frankel is just fantastic."
Whatever the arguments, Frankel has not only been a great. He has been great for horse racing
His final win came on Qipco British Champions Day, the country's richest racing fixture which is designed as a finale to show off the season's champions.
He has also thrived in an era where the marketing campaign Racing For Change tries to promote the sport through a £1m annual budget.
Rod Street, chief executive of the series and Racing for Change, said: "Frankel has transcended racing and gone into mainstream sport.
"It's a great opportunity for racing to sell itself to a new generation, and it's one of the only sports where kids under 16 are admitted free at most venues.
"He's going to be used as the yardstick for years to come. Everyone is going to be looking for the next Frankel. He has put racing front and centre with a bigger audience."
Grimthorpe said he had heard tales of children who point at any horse on the television and shout: "Frankel, Frankel."
And he recognises the part Cecil has played in all of this.
"Henry's re-emergence as a trainer is not just one of the greatest stories in sport, but one of the all-time great stories generally," said Grimthorpe.
Whatever was thrown at him, Frankel has remained undefeated. Rather like his trainer.