Melbourne Cup: Harry Dunlop pleased with Green Moon win
Last updated on .From the section Horse Racing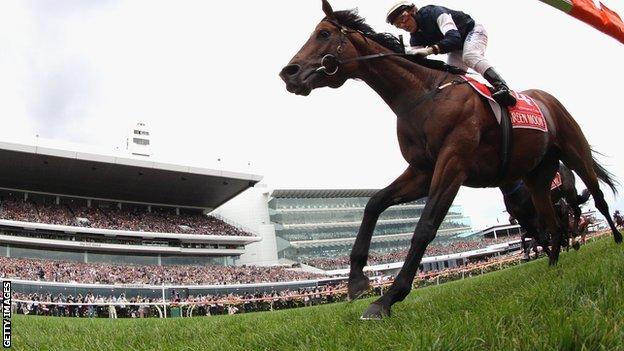 British trainer Harry Dunlop has admitted to mixed feelings after his former charge Green Moon won the £4m Melbourne Cup.
In 152 runnings, a British hopeful has never won the Australian contest known as "the race that stops a nation."
Green Moon, who ran eight times for Berkshire-based Dunlop, is now trained in Australia by Robert Hickmott.
"There are mixed emotions, but it's great to be associated with a very good horse," Dunlop told BBC Sport.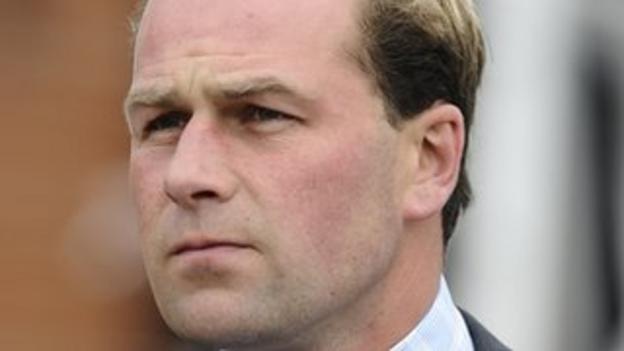 Dunlop is the younger brother of Ed, who came within a nose of winning the two-mile Melbourne Cup in 2011 when Red Cadeaux was edged out by Dunaden.
Red Cadeaux was eighth this time as Green Moon beat Fiorente, who was with another British trainer - Sir Michael Stoute in Newmarket - until this summer.
"I've got a lot of messages and, of course, you wish it was your name by the winning podium," said Dunlop, the son of veteran trainer John.
"But he served me very well. We had a lot of fun with him. He was probably one of the best horses I've ever trained."
Green Moon, a five-year-old son of 1999 Prix de l'Arc de Triomphe winner Montjeu, was bred in Ireland by the wealthy Goldsmith family and was the only offspring of his mother Green Noon.
He was sold by owners Lady Annabel Goldsmith and Kate Rothschild in 2011 and moved to Australia.
"We had a few injuries and niggles with him. He was favourite for the King Edward VII Stakes at Royal Ascot [where he finished fifth]. He was a good horse," said Dunlop.
"His form did go slightly wayward and he had some physical problems, but he was a lovely horse.
"When he won his maiden race at Leicester, he won by eight lengths for Frankie Dettori and it was a very special day and when he won the London Gold Cup at Newbury he beat the future Dubai World Cup winner [Monterosso].
"He was always going to be sold. It would have been wonderful if someone had kept him racing with me but he's obviously really suited Australia and the warmth. He's been given the time to mature and strengthen which is what he always wanted."
Green Moon is now owned by Australian Lloyd Williams, a former business partner of the late media tycoon Kerry Packer who was enjoying his fourth Melbourne Cup victory.
Dunlop believes it is only a matter of time before a British-trained success in the race is finally being celebrated.
"I think it will come one day and it nearly happened last year - there was only a pixel in it. I don't see why it shouldn't happen," he said.
Emirates Melbourne Cup finishing order:
1 Green Moon 19-1 2 Fiorente 30-1 3 Jakkalberry 80-1
4 Kelinni 5 Mount Athos 6 Glencadam Gold 7 Mourayan 8 Red Cadeaux 9 Precedence 10 My Quest For Peace 11 Americain 12 Cavalryman
13 Voila Ici 14 Dunaden 15 Niwot 16 Lights of Heaven 17 Winchester 18 Sanagas 19 Maluckyday 20 Galileo's Choice 21 Unusual Suspect 22 Zabeelionaire 23 Tac de Boistron 24 Ethiopia