Camelot set to revive Triple Crown status in St Leger at Doncaster

By Cornelius Lysaght
BBC horse racing correspondent
Last updated on .From the section Horse Racing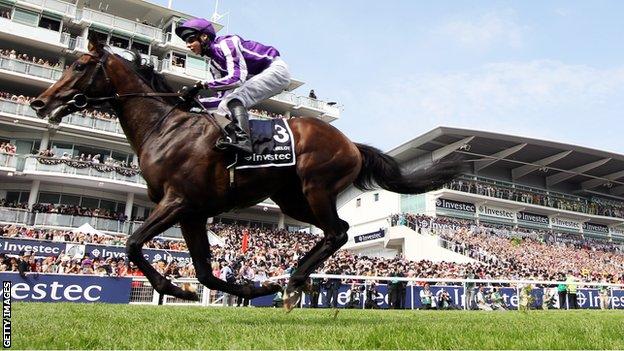 British Grand Slam champions may have been rare commodities prior to Andy Murray's spectacular win in New York, but so too have been winners of Flat racing's Triple Crown.
Only once in the years since Fred Perry last delivered a "Slam" for Britain in 1936, has the iconic 2000 Guineas-Epsom Derby-St Leger treble been completed.
And it was a memory-challenging 42 years ago that Lester Piggott steered Nijinsky to victory in the St Leger, the final, longest and oldest of the Flat's five Classic races.
Although we demand that sport's most coveted prizes are appropriately elusive, as with Murray, it's also important, as well as heart-warming, that they are won at least occasionally.
Now, it is probable - odds-on favourite probable - that Camelot will finally end the wait when competing in Doncaster's stamina-testing St Leger over a mile-and-three-quarters, plus 132 yards on Saturday.
After the 2012 wins of Frankel, Black Caviar and Snow Fairy, success for the colt, part of the Coolmore racing empire, would again see racing doing its bit for the "great summer of sport".
It would also confirm a massive change in fortunes for the Triple Crown and for the St Leger.
Since Nijinsky's victory in 1970 - the first occasion the Triple Crown had been achieved since 1935 - no horse has even tried to land racing's most famous treble.
The concept, won in all 15 times since the 1850s, was originally conceived to allow a three-year-old to demonstrate progressive versatility.
The first test comes in the spring over the mile of the Newmarket Guineas, before the horse is upped to 1½ miles at Epsom in the summer, and then further still at an autumnal Doncaster.
But, for years, the last leg was a problem, considered by some antiquated and irrelevant.
Post-Doncaster defeats for Nijinsky, notably in the Prix de l'Arc de Triomphe, presented a difficulty for the race in trying to attract the very best performers.
And with thoroughbred breeders keen on stallions with credentials gained in races of a mile and a mile-and-a-quarter, the extra distance dropped further and further out of fashion.
Once, John Magnier and his partners in Team Coolmore might also have sought fame elsewhere.
But these days, the winners of pretty much everything worth winning are mindful of the long-standing significance, and they believe they have just the horse for the history books.
Having reserved the name Camelot, the dreamy castle that was home to King Arthur, they waited 10 years to find a runner to fit the name, one capable of "special" feats.
Trainer Aidan O'Brien, whose 19-year-old jockey son Joseph rides the colt, was convinced from early on that the correct horse had been selected.
"It's a mystical kind of name, and he's different, this horse, he looks different, everything about him is different," he told me.
"He is obviously flesh and blood but there's a different vibe around him and he's not like the normal horses made from flesh and blood. There's a bigger aura around him. He could be the best we've had."
Big words from a trainer who has been responsible for a string of world-class performers including Galileo and Rock Of Gibraltar, George Washington, Yeats and St Nicholas Abbey - and that's just five of them.
Camelot, a son of the recently deceased Coolmore stallion Montjeu, has certainly never let down his admirers, winning his five starts to date, with more promised at Doncaster and beyond.
At O'Brien HQ at Ballydoyle, County Tipperary this week, there was no mistaking the significance being attached to the task ahead.
The nervous anticipation - "only just bearable", according to the trainer - was evident the moment you went through the gates, passing a statue of Nijinsky, also trained at the stable, by Vincent O'Brien (no relation).
They know they have easily the best horse, one who has recorded thrilling wins in the and in the and that he should dispose of the opposition comfortably. But it's still a horse race, in which things can go wrong, and there's that extra distance.
Nerves seemed to jangle as O'Brien, for whom St Leger success would also mean an unprecedented clean sweep of the British Classics, repeated: "It pulls him way beyond his comfort zone."
There is a definite dollop of diplomacy there, but the fact is that Camelot is, as they say, running into unknown territory.
As we finished chatting, the tones of Nancy Sinatra drifted across from a stable block where a radio was being played. The lyrics seemed more than appropriate.
"These boots are made for walking, and that's just what they'll do, one of these days these boots are gonna walk all over you."
That's certainly what they've done so far.