Jockey Amy Ryan targets future success after year to remember
By Elizabeth Hudson
BBC Sport
Last updated on .From the section Horse Racing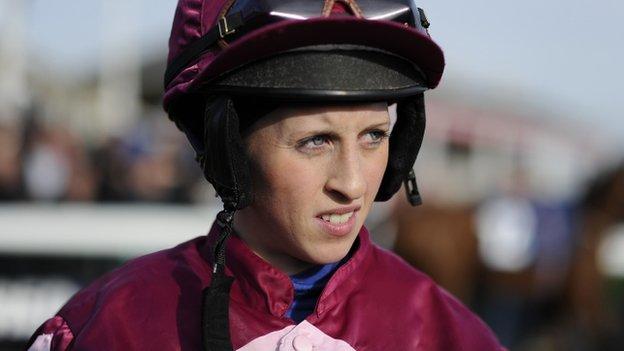 Newly-crowned apprentice champion Amy Ryan believes it is just a matter of time before a female jockey wins a British Flat racing Classic.
Ryan created her own piece of history on Saturday when she became the first woman to win the apprentice title outright.
The 23-year-old from Hambleton, near Thirsk in Yorkshire, finished her season with 40 winners, two clear of closest rival Darren Egan.
She was presented with the trophy by Britain's leading female jockey Hayley Turner who tied for the apprentice title in 2005 and has gone on to blaze a trail.
"A female Classic winner is certainly not out of the question," Ryan told BBC Sport. "More people are getting used to the idea and Hayley has had some rides already in the Classics.
"It is all about getting on the right horse at the right time and having a trainer or owner with the faith to keep you on the horse when it wins.
"To win the apprentice title is huge and hopefully it will break down some more barriers for female jockeys. Things are changing, there are more girls coming through who are seeing horse racing as a career and maybe what we have achieved will give them an incentive.
"It's good we can have a bit of a laugh and banter in the weighing room and you aren't just there on your own."
Ryan's pre-season aim was to pass 95 career winners, after which her mounts would no longer be granted a weight allowance.
But the daughter of trainer Kevin enjoyed a dream campaign, achieving that mark in May and from then on concentrated on winning the apprentice crown but she missed out on the inaugural female jockeys championship, which was won by Turner.
"After I lost my claim I panicked a bit and thought I would struggle for rides but I was on a roll at the time and I had a lot of help from my dad and other trainers in the north like Richard Whitaker," she admitted.
"I knew this would be my last year to win the apprentice title so it was in the back of my mind but there are a lot of good apprentices riding and I didn't think about it until towards the end of the season when I thought I would have a chance.
But when Darren got banned towards the end of the season and I caught up with him and then I thought I would give it a real shot.
"Although there was a bit of pressure and lot of media attention, I enjoyed it more than anything and didn't really feel the pressure."
Ryan has ridden at 26 UK racecourses this year but she says has not thought about how many miles she has clocked up in pursuit of her dream.
"The other week I rode at Wolverhampton five days out of seven, and that is two and a half hour journey each way, but it shows the miles you have to do. Then another day I rode at Lingfield, which is nearly five hours away from home," she explained.
"You take what you can when you are going for the championship. For example, the other Saturday I had eight rides - two at Catterick and then the rest at Wolverhampton.
"It can be very tiring, which a lot of people don't appreciate - they just see the glamour of racing at the course. When you are getting in from Wolverhampton at half 12 or one in the morning and you are back up again at 6 o'clock in the morning to start work again it is tough."
Next up for Ryan is a well-deserved holiday to Tenerife before she returns for some rides on the all-weather over the winter months ahead of the new campaign which starts in March, but she is hoping that the apprentice title can be the springboard to further success in the sport.
"Not many people can say they love their job and get paid to do something they love but I am lucky to be in that position so as long as I can keep make a living out of it I will keep enjoying it," she said.
"I'm under no illusions, I know a lot of people have won the apprentice's title and struggled after that. I just want to keep working hard and retain my contacts and on the all-weather."