Fakenham to address 'jockey errors' on course
By Chris Osborne
BBC East Sport
Last updated on .From the section Horse Racing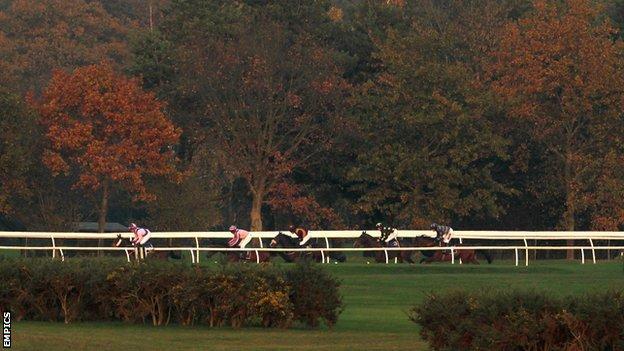 Fakenham's chief executive has insisted Brendan Powell's course mix-up was "jockey error", but has said he will look at ways of avoiding a repeat.
Jockey Powell missed the route to the post in Tuesday's 1.30 handicap chase.
The 17-year-old, on Benny The Swinger,
"Although there was nothing Fakenham could have done, the perception is 'why did it happen?'," David Hunter told BBC East Sport.
"We're working with the British Horseracing Authority and jockeys to see what we might be able to do that is practical and can be implemented without taking away the responsibility of jockeys to know the course and know what they're doing."
Powell was aboard the 5-4 favourite at the Norfolk track when he looked set to clinch victory, before mistakenly jumping the last fence from the previous circuit.
That allowed Peak Seasons to win the race by a nose from Roc De Guye.
It was the fourth time in five years a jockey has gone off course at Fakenham - with Sam Waley-Cohen, Sam Thomas and Denis O'Regan involved in similar incidents - although it was the first time a fence was incorrectly jumped.
Benny The Swinger's trainer Chris Gordon told the At The Races TV after the race: "It's one of those things that happens up there [at Fakenham] far too often.
"If only they dolled it off on the final circuit, so jockeys can't make a mistake."
Hunter, who is also clerk of the course, said: "There have been a number of similar incidents over the years, all of which have been jockey error.
"We will now see what we can do to improve that. It has to be a system that is fool proof and simple to operate. But ultimately it won't take away the jockey's responsibility,
"I guess we would be looking at a specific person whose job it is to put out cones that dolls off that particular fence after it's been jumped for the final time."
Fakenham hope to have a system in place - or at least a trial system - before the next meeting on Monday, 10 December.