Hennessy Gold Cup at Newbury: Mattie Batchelor's mixed emotions

By Cornelius Lysaght
BBC horse racing correspondent
Last updated on .From the section Horse Racing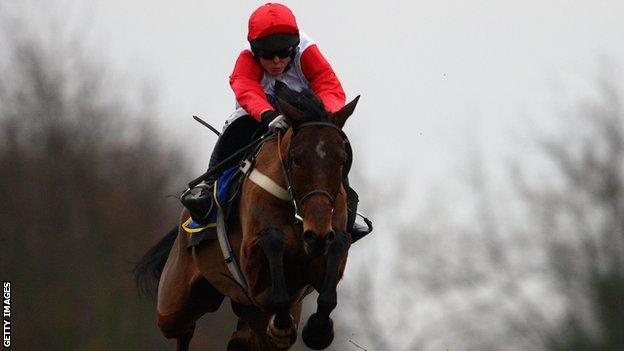 Hennessy Gold Cup day at Newbury will always be one of mixed emotions for jockey Mattie Batchelor.
On the one hand, the 2011 race provided the 36-year-old with his biggest win, on Carruthers, the front-running horse with whom he is reunited in this year's race, but it has much family significance too.
"When my Mum died seven years before, I'd been to Newbury for the Hennessy," he said. "It was the year that Timmy Murphy won it on Celestial Gold.
"So the feeling of getting a success in the race myself was a big mix of elation and loads of other thoughts. It was very poignant, but then great to celebrate with my Dad and my sister later on."
Poignancy goes hand in hand with Carruthers.
The nine-year-old was bred and owned by the hugely popular journalist, writer and one-time amateur jockey Lord John Oaksey who died in September aged 83 after a long illness.
The horse's name derived from the hero of a bawdy ditty that Oaksey would recite at late night gatherings, and he was convinced that the equine namesake, trained by his son-in-law Mark Bradstock, would eventually get his name in lights.
Sadly, 'the noble lord', as he was nicknamed, wasn't well enough to attend Newbury last year, but watched on television as Carruthers recorded a memorable victory in the historic £150,000 handicap steeplechase.
Five races since have not reaped the same kind of form - though they have included the Cheltenham Gold Cup- but Batchelor is hopeful of a bold attempt to become the first back-to-back winner since the great Arkle, no less, in 1964-65.
"OK, we're only trying to emulate Arkle," grinned the jockey, "but Carruthers is a small horse, so a big race like Hennessy where he won't get too much weight (10st 7lbs) suits really well.
"He had too much weight at Cheltenham the other day and in the race before that we got left at the start because I wasn't ready, certainly not because he dug his toes in or anything like that.
"He's a bit like me playing football: not necessarily naturally brilliant, but all guts, with a great heart and gives you everything," added the Brighton and Hove Albion season ticket-holder.
A well-backed 10-1 shot last year, Carruthers will be double those odds or higher this time, but, with memories of that win still on the fresh side, plus the Oaksey connection, he will not be short of support.
As well as history, the horse has to defy a string of high-calibre opponents, notably the Nicky Henderson-trained Bob's Worth, a winner at the last two Cheltenham Festivals.
Now seemingly a definite runner despite concerns over the severely rain-softened going, he is already third or fourth favourite for the Gold Cup back at the Cotswolds track in March.
With his level of form, Bob's Worth is a very worthy favourite, but if Carruthers is still in front entering the closing stages, he will certainly have a race on his hands.