Frankie Dettori: What now for banned jockey?
Last updated on .From the section Horse Racing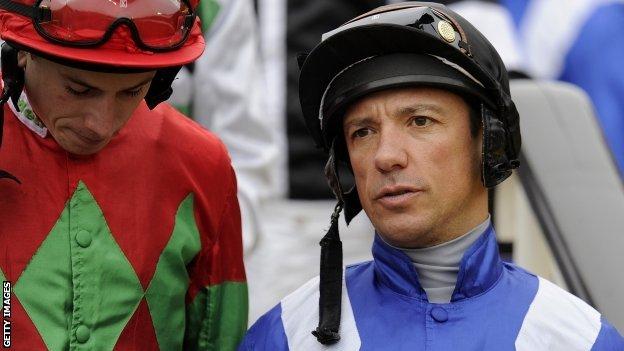 Split from his regular employer, a damaged reputation and edging towards the twilight of his career, Frankie Dettori is facing an uncertain future.
While he sits on the sidelines serving a worldwide six-month racing ban for failing a drugs test in France, the jockey will have time to assess whether he retains the hunger to resume his career.
Dettori turns 42 on 15 December and although he has previously indicated a desire to carry on for several more years, the ban could hardly have come at a worse time.
The Italian, who made history by riding all seven winners on a card at Ascot in 1996, was due to start 2013 as a freelance after his 18-year relationship with Sheikh Mohammed's Godolphin racing team ended in October.
With his role as the team's number-one rider no longer guaranteed, and facing competition from younger jockeys Mickael Barzalona and Silvestre de Sousa, Dettori decided to go it alone.
While the early part of his ban will not be of great concern, as the British Flat racing season does not start until 23 March, he is set to miss some big fixtures later on.
He will sit out the world's richest race - the Dubai World Cup in March, which he has won three times - as well as the opening Classics at Newmarket's Guineas meeting in May.
Dettori will be back in time for June's Epsom Derby and Royal Ascot, but he will not have had much time to prove his race fitness.
Could he retire? It may have crossed his mind, but a man who has thrived in the spotlight could struggle with being out of it.
Will he still be in demand? He has ridden more than 3,000 winners worldwide during his career, of which 110 have been at the top Group or Grade One level.
Many trainers, and particularly owners - perhaps enamoured by his cheery, celebrity status - will still court him, although a handful may look elsewhere.
"He will be like a floating Wayne Rooney and they will all want him," says his biographer Jonathan Powell.
"Frankie's a world-class jockey, arguably the best around. He'll be the first man they'll go to when there's a spare ride."
While banned from competitive action, Dettori will still be able to ride out for trainers on their gallops.
The enforced absence means Dettori can spend more time with his wife Catherine and five children, but he will crave winners on the big stage - a return to the flying dismounts and public adulation.
"He's still very competitive, believe you me. He will want to get over this latest setback and I truly believe he has another four or five years at the top of his profession," said former weighing room colleague Dale Gibson, who is now a director for the Professional Jockeys' Association.
"Just before the end of last season he won a Grade One race in America on a horse called Joshua Tree and it was one of his best ever rides."
There are precedents for jockeys bouncing back in the latter stages of their career - Kieren Fallon returned from two drugs bans and Lester Piggott was 54 when he successfully emerged from five years in the wilderness, including a year in jail for tax fraud.
Six-time champion jockey Fallon was given a six-month ban after testing positive for cocaine in 2006, when he was 41.
He served a separate 18-month suspension from January 2008 for the same drug but returned to the top level, finishing third in the race to be champion in 2011.
But Fallon's former agent Terry Norman said it was tough to return from a long suspension.
"It was 100% certain that Kieren would want to come back and prove people wrong," he said.
"His mental strength is unbelievable and now at 47 he's still a very good jockey.
"Kieren went everywhere. He put the hard yards in to get good rides - he went to Southwell for the first time in five years, for example.
"The difficulty for Frankie may be whether he wants to trudge around some of the lesser tracks. He won't necessarily be given Group One rides on a plate."
But Powell believes the ban may give Dettori fresh impetus.
"He'll be really wounded now, kicking himself for what's happened, but he'll come out of the other side stronger," he said,
"He'll be hungry after this. He's a Latin - he has big highs and lows, but I doubt he's ready to step off the stage."
Dettori has fought back before. He won his first champion jockey title in 1994, the year after he was given a police caution for possessing a small amount of cocaine. He survived a plane crash in 2000, and was champion for the third time four years later.
He has been undone by drugs, but winning is a drug too and might be one that ensures his remarkable career continues.