Hereford and Folkestone closures are bad news for horse racing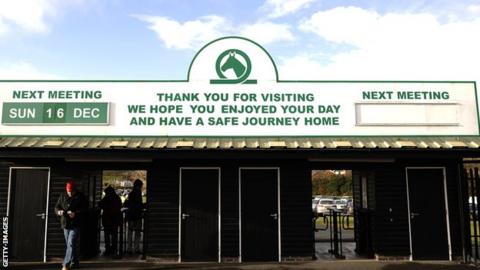 When considering the closures - for the time being, at least - of Hereford and Folkestone racecourses, I need to declare an immediate interest.
I actually have no recollection of going to Hereford for the first time, simply because I was so young at the time. But like many families that lived close by, the Lysaghts attended loyally, with a March Saturday and the Whitsun bank holiday fixture especially popular. This was in the days before a short-lived Boxing Day meeting.
What I do recall, however, is going with some friends when aged three and a half. The racecard (which I still possess) contained the names of such 1960s riding legends as Terry Biddlecombe and Eddie Harty.
And, pun entirely intended, I knew the form: the location of the weighing room, the bookies (though even the most amiable refused us) and knowing how to get up close to the action at the last fence.
Forty-five-plus years later, the party that has been going on at Hereford since 1771 (and since 1898 at Folkestone) is over, after Arena Racing Company (ARC), the owner or leaseholder of 17 tracks in all, made the closure decision.
At Hereford, the fixtures have been moved elsewhere, and although the track is technically licensed for 2013, officials do not anticipate any racing taking place.
You will understand, therefore, the deep sense of sadness being felt by this son of Herefordshire; something similar no doubt applies to regulars at its doomed sister course in Kent.
ARC's bosses insist that neither is viable in its current form, and that they make no money. However, they say that if an extension on the current 17-year lease at Hereford can be sorted - and planning issues at Folkestone likewise resolved - the closures, the first of any longstanding track since Stockton, Teesside, in 1981, could be reversed.
There is, of course, viable and viable.
In large racecourse groups like ARC, just one aspect of the Reuben Brothers' business empire, the shareholders are king.
A large portion of the lucrative revenue from media rights and the income from the bookmakers' levy does not remain at the tracks where it is generated but is soon off to the holding company's coffers.
There is a suspicion among some that the sport is of secondary importance.
In contrast, some of the people running independent courses - Taunton in Somerset is a good example - are less concerned about shareholders and able to plough their cash back into facilities and prize money.
It may be naive to think everyone can operate like this, but it is important for the future of jumping that the smaller tracks - other Herefords and Folkestones - survive.
They are the lower, but still crucial, layers of a vast pyramid, at the top of which stand the bigger fixtures, like Cheltenham and Aintree, that operate as the sport's shop window.
Horses that are to climb to the top need somewhere to start: early sorties in the successful careers of good hurdlers Mrs Muck and Mighty Man took place at Hereford. The demise of racing in Herefordshire and in Kent is not just sad for local racegoers; it is bad news for the sport as a whole.
At the final Hereford meeting, ARC's Jim Allen said: "We will keep it as a racecourse, maintaining the fences, hurdles and running rails, cutting and fertilising the racetrack.
"We are happy to talk to anyone because we will do what we can to keep racing. I could see it in action in 2014."
Many of us hope he is correct but there is one especially worrying statistic: no course that has been closed down, other than in war time, has ever reopened.