Eddie Ahern and Neil Clement 'corruption' case verdict on 22 May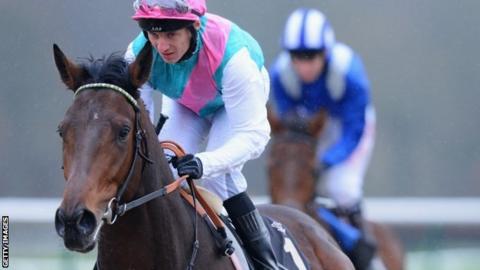 A verdict in the corruption case against jockey Eddie Ahern and former footballer turned racehorse owner Neil Clement is due on 22 May.
The men were among six people who faced corruption charges at an earlier British Horseracing Authority inquiry.
Ahern was charged with conspiring to commit a corrupt practice relating to the 'laying' of five horses between September 2010 and February 2011.
Clement is accused of breaching rules relating to those five Ahern races.
Ahern, who has ridden more than 1,000 winners in Britain, allegedly prevented Judgethemoment from obtaining the best possible position at Lingfield in 2011.
The 35-year-old is also accused of "passing information for reward".
Ex-West Bromwich Albion defender Clement is further charged with the laying of Hindu Kush, which he then owned, when the horse finished last out of six runners at Kempton in February 2011.
The gambling practice of 'laying' involves betting against a horse to win.
Clement, 34, made more than 250 appearances for the Baggies, including four seasons in the Premier League, but was forced to retire in January 2010 because of a knee injury.
Former registered owner Michael Turl, who admitted conspiring with Clement and/or others to commit a corrupt or fraudulent practice, was last week disqualified for two years and fined £10,000 in connection with the laying of Stoneacre Gareth in March 2011.
James Clutterbuck, son of and assistant to Newmarket trainer Ken Clutterbuck, and unlicensed individuals Martin Raymond and Paul Hill, were charged in relation to the Stoneacre Gareth race, with the former accused of passing on inside information to Hill, Clement, Turl and Raymond.
Ken Clutterbuck said the BHA's decision to charge his son over the Stoneacre Gareth race, in which he was sent off the 11-4 favourite and finished fourth, was "totally ridiculous".
He said: "I backed the horse to win at Lingfield and James backed it to win."
A separate hearing regarding any penalties will be arranged if any of the five accused are found to be in breach of the rules.