Footballers Chopra, Coppinger & Wilson face race-fixing inquiry
Last updated on .From the section Horse Racing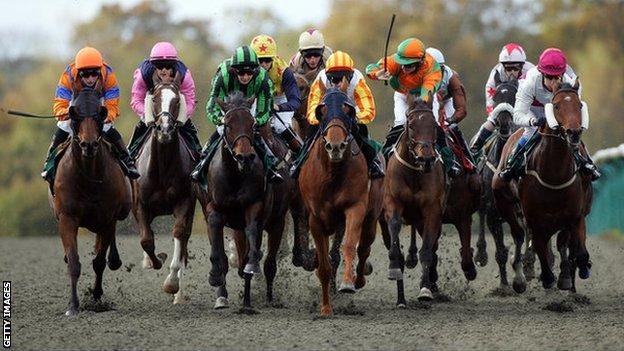 Three footballers are among nine people facing a race-fixing inquiry which starts on Monday.
Ipswich's Michael Chopra, Doncaster winger James Coppinger, and ex-Manchester United player Mark Wilson are accused of "serious breaches of the rules of horse racing".
Jockey Andrew Heffernan is also among those charged by the British Horseracing Authority (BHA).
The allegations focus on gambling on horses to lose on betting exchanges.
Chopra, who has admitted to a gambling problem, said he will not attend the hearing, which has been scheduled to last 10 days.
He and the other footballers are accused of betting using inside information provided by Heffernan.
If found guilty, those accused face disqualifications from involvement in racing.
The BHA said nine races at the centre of the investigation took place between 1 November 2010 and 31 March 2011.
Heffernan is charged in relation to his riding of three horses - Wanchai Whisper (15:25 at Lingfield, 28 January 2011), Gallantry (19:20 at Kempton, 2 February 2011) and Silver Guest (13:55 at Lingfield, 9 February 2011).
The jockey, who now races in Australia, is alleged to have not ridden the horses on their merits to obtain the best finishing position possible.
And he is accused of communicating "to one or more betting exchange account holders information relating to the prospects in the race of that horse".
In addition to Chopra, 29, Coppinger, 31, Wilson, 33, and Heffernan, five "unlicensed individuals" - Paul Garner, Kelly Inglis, Yogesh Joshee, Douglas Shelley and Pravin Shingadia - are also charged.
Coppinger, who has denied any corruption, is back at Doncaster after a loan spell with Nottingham Forest.
The BHA said the "unlicensed individuals" were accused of using inside information.
Former Cardiff striker Chopra, Garner, Joshee, Shelley and Wilson - who now plays for Conference North side Gainsborough Trinity - have also been charged with offering bribes to Heffernan.
Inglis is accused of offering to take a bribe or bribes from Chopra, Garner, Joshee, Shelley and Wilson.
Garner is charged with placing lay bets - betting on a horse not to win - on horses trained by Alan McCabe, when he was working as a stable employee for the trainer.